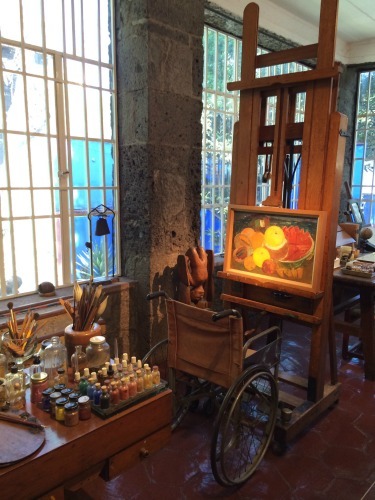 "It is impossible to separate the life and work of this extraordinary person. Her paintings are her biography."

~ Local Critic
This last year I had the opportunity to travel through Mexico.
I finally saw La Casa Azúl for the first time. My breath quickened with anticipation as we crossed London Street and stepped into the brightly painted building.
With a lump in my throat and watery eyes, I wandered the Coyoacán home of one of my greatest idols, Frida Kahlo, in awe.
It reeked of passion, torment, grief and love.
This is where she was born and where she died.
The historic house is now the Frida Kahlo Museum. For years, it has been incubating her dreams and suffering. I am grateful for the foresight of her husband, Diego Rivera, who locked her wardrobe and possessions away for 50 years.
Rivera was Mexico's most celebrated muralist, but Frida's posthumous fame has surpassed his.
Her indomitable essence permeates the Blue House and oozes from her belongings, paints and easel, bedroom and wardrobe.
Both Frida and Diego were part of the revolutionary culture of the 1920s and 30s. Her unconventional life, passion, enduring love of Diego and unique insurgent style are evidence of her fierce character.
Here are some lessons from the life and art of Frida Kahlo:
Define your own style.
Frida's avant-garde style continues to have a lasting impact on fashion.
You do not need to be 5'10" and 100 pounds to be beautiful, fashionable or influential.
Frida was known for her eccentric style including her bold jewelry—Maya jade beads and ornate Taxco silver—which she paired with contrasting colors and extravagant hair decorations of flowers and ribbons.
Frida was proud of her Mestizo (a combination of European and indigenous ancestry) identity. She owned it!
Be audacious and don't let today's fashion dictate your wardrobe. Learn how to maximize your beauty by creating your own fashion signature. Mix textiles and patterns from different parts of the world.
Be creative.
Accessorize!
The fire of suffering and hardship refines us.
Emulate Frida and be the crucible. Channel your torment into art.
"I suffered two grave accidents in my life… One in which a streetcar knocked me down and the other was Diego." ~ Frida Kahlo

Frida has long been a symbol of perseverance and transmuting pain into art.
At age six she was befallen with polio, crippling her right leg. She disguised her disfigured limb with ingenuity, wearing multiple socks on her thin calf and shoes with a built-up right heel.
Her elaborate floor length skirts hid her deformity and her bodacious upper body accoutrements drew attention elsewhere.
Be with the one you love (and be with him again).
Kahlo and Rivera's tumultuous relationship is chronicled in her paintings.
True love is incomprehensible when it barrels into you… be ready. The influence Frida had on Diego and Diego on Frida cannot be denied.
"Only one mountain can know the core of another mountain." ~ Frida Kahlo

Be distinctive.
We all adore Frida's uni-brow and her imaginative style.
Draw from your roots and mix and match to invent your own image.
Kahlo adopted her traditional attire from the Zapotecs, a matriarchal society known for its independent spirit.
Frida also dismissed the date of birth recorded on her birth certificate and insisted it was July 7, 1910, the kick-off date of the Mexican revolution.
Teach yourself.
Frida attended the most prestigious girls school in Mexico, apprenticed as a printmaker, rose through the ranks of grass-roots political activism, but never received formal training in art.
She created 143 paintings, 55 of which are portraits, the best known of her work. Today, her paintings sell for more money than any other female artist and her image has become an icon of the independent spirit of the Mexican people.
Her timeless style continues to impact designers and influence artists worldwide.
We suffer, we love, we die.
Why not live the life we silently dream of and create art from our tribulations?
When we have the courage to live at our edge with our heart open, it snowballs into inspiration.
What if we saw our flaws and foibles as compost for our own personal brilliance?
The ghost of Frida beckons us to live radically and flip the bird to convention, to love fiercely and make art to the very end.
Love elephant and want to go steady?
Apprentice Editor: Brandie Smith/Editor: Emily Bartran
Photo: Author's Own