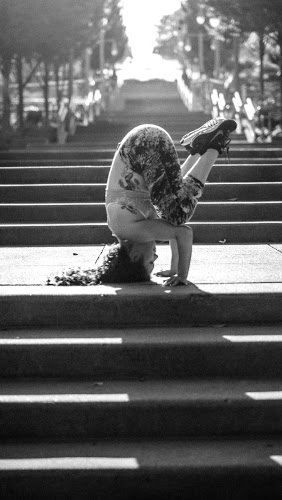 I go to my yoga mat because there is nothing else I can do.
I go to the mat, unfolding the length of the jade green that's a little bit scratched up in the spot where my kitty does her downward dog stretch.
I am lost, for once.
I've been given a powerful learning tool—really, it's a beautiful gift to raise a special child—but I am unsteady in the receiving. I am learning how to balance this gift as I go along this humbling curvy journey.
In my exhaustion, I rest my forehead on my mat, stretching in child's pose—finding my ability to give unconditionally—caring with all my heart, and more.
I let go, remembering words of an Instagram pic, "Our days are happier when we give people a bit of our heart rather than a piece of our mind."
The author is unknown, but the quote is a universal feeling in which love is more powerful than—well, almost anything. Some of us share more love and compassion than others due to our jobs as nurses, educators, massage therapists, or we care for loved ones, as I do.
I am tired, at times, for I have Compassion Fatigue (a not-too-surprising part of being a caregiver).
I go to my yoga mat because there is nothing else that I can do when my body and soul are tired from giving too many pieces of my heart. There is nothing else I can do, but be in this moment of resting in child's pose.
I go to the mat because there is nothing more freeing in those moments after negotiating, uplifting and holding the space of caring for one who is special in our world that is shaped like a Bell Curve.
I rest my head, knowing that I am strong enough to be a guide.
I rest my heart, feeling that I am able to love more than be afraid of the unknown because in the uncertainty comes opportunity.
I rest my breath, releasing the heaviness of my load: expectations of how I thought life should be, and perceptions that it is not as hard as it feels.
I go to the yoga mat to honor this thing called Compassion Fatigue, and fill my soul with self-love—little reminders that "yes, you are strong," as I bend back into shoulder stand, or "it's okay," as I open my hips in Pigeon pose.
I go to the yoga mat to remember my stability comes with flexibility, finding the only "cure" for this fatigue is to release it all here on the mat. Let the tears fall, let the struggles come undone, let myself know that I'll never be able to do it all; and that's okay.
Love elephant and want to go steady?
Editor: Catherine Monkman
Image: Pixoto