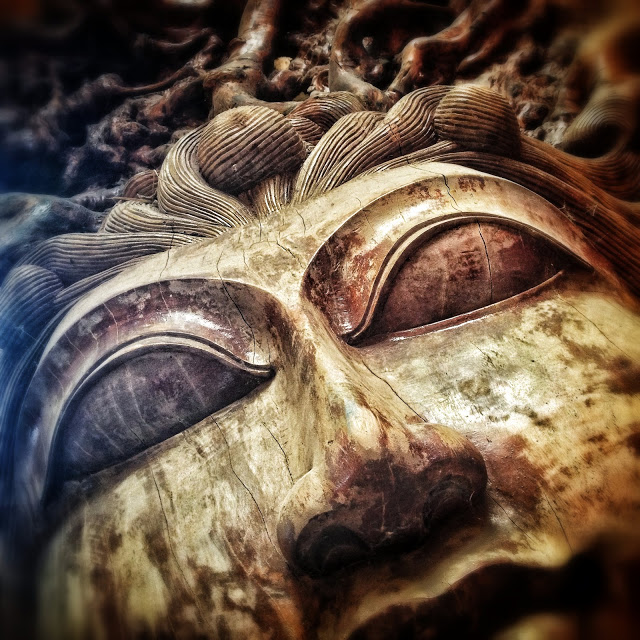 This is part three of a three-part series (see parts one and two) from award-winning dance performer and director Ruth Zaporah. At age 17, Ruth's father gave her Autobiography of a Yogi to read. Ever since, she has maintained her devotion to both Eastern and Western practices and understandings of the mindful process, and has applied them in her innovative work in physical theater improvisation training. "A Mind in Three Episodes" is excerpted from her new memoir, Improvisation on the Edge.
~~~
My house is loaded with objects from my past, vestiges from different occasions in my life.
As I glance at these objects or walk by them, I feel their resonance, if only for an instant. They offer, as both meditation and improvisation practices do, moments of calm, of stillness, and clearing away from mundane disturbances.
These objects sit in their places, solid and historic. They've been around for a long time and demand respect.
One of these possessions is an old leather Hebrew prayer book that made the crossing from Russia. It's large and it lies open at an arbitrary page. My grandmother brought it to America on a boat, traveling alone as a teenager. Her family thought it would protect her; it was their most cherished belonging.
Originally it belonged to my great, great, great grandmother, then to my great great grandmother, then to my great grandmother, then to my grandmother, and then it was in the hands of my father, who gave it to me. I had it restored, but its pages remain heavily stained from generations of tears, touch, wine, and food. I can barely remember how to read the words, but I frequently add my own touch to it.
Occasionally I turn a page to expose the words to the world.
In my bedroom there is a low wooden stool. It stands in front of a wall that is painted deep golden ochre. An old faded thangka, a Tibetan Buddhist wall hanging, is suspended here. I got it from a trader in exchange for a green down vest, on a steep snow-covered slope somewhere in the Annapurna mountain range in Nepal.
On the low table is a dark embroidered cloth from the pouch of that same trader. Some bird feathers, a brass bowl filled with turquoise, jade, and coral beads, some matches, a candle, incense, and a harmonica are laid out on the cloth. The glow of the early morning light travels across the ochre wall and slides its way over the thangka.
At any hour as I walk past I can feel a beckoning, and so I sit down for a while.
These objects are about people and places. They're old, very old, and speak of the extraordinary accomplishment of their owners and what these people did to secure their lives. They were my ancestors. Of course my grandmother is clearly an ancestor, but I also think of the Tibetan trader as a kind of ancestor.
Where did my life begin? With my mother? Her mother? And before her? Who's to know, and does it really matter?
All of us here today are beholden to those who came before us, no matter their place or their origin. And doesn't this come as a great relief? That my life isn't limited to a particular story or a particular lineage—that it's now my turn to pass through this place, and that I'm carrying within me all that's come before.
Doesn't this expand my sense of myself, my view of myself in relation to all things? Isn't this knowledge, this reminder, that book and that thangka, aren't they all luring me into a clear sky, a blank wall, an empty stage?
Meditation and improvisation are not easy practices. Why should they be?
Why practice anything if it's so easily mastered?
The mind doesn't like to be still. It has a restless nature—whether on a cushion or on a stage or in front of a prayer book, or in a conversation with a friend or a doctor or stuck in rush-hour traffic.
But then sometimes it does like to be still. Because when the mind finally settles down, it finds itself to be unencumbered, like space itself, and that's a deliciously attractive state.
The stillness that nourishes the spirit is the same stillness that allows me to stand in front of you.
~
From Improvisation on the Edge by Ruth Zaporah published by North Atlantic Books, copyright © 2014 by Ruth Zaporah. Reprinted by permission of publisher.
Love elephant and want to go steady?
Editor: Renée Picard
Photo: Geary LeBell at Pixoto