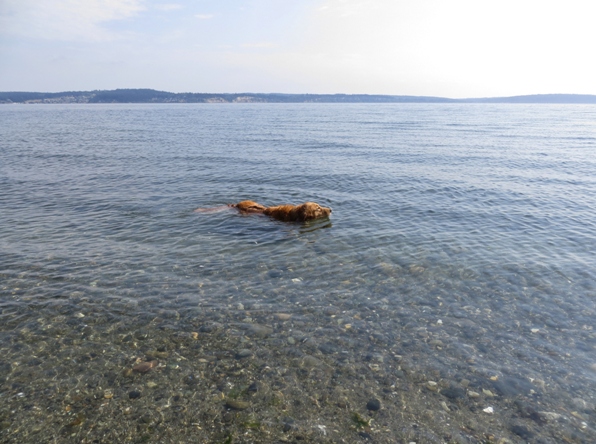 It was a gorgeous early October around noon.
The beach and sky glimmered. I inhaled the salty air, relishing the off-leash joy of Max and Levi, the two Golden Retrievers in our care while my husband and I house-sit in the Pacific Northwest. Today he was back at the house gardening, while I took the dogs out for some exercise.
Max came bounding toward me from the water and dropped a stick at my feet. When I bent down to throw it, Levi galloped down the beach. I wasn't concerned. He always comes back.
I smiled when I saw from afar that he had approached two people with a dog, knowing how much he enjoys greeting other dogs. But as I got closer I could hear the women yelling. They were pulling on their dog's leash to try to keep him away from Levi.
Soon I could hear they were swearing, yelling at me. Come and get your f***ing dog! What the f*** are you thinking, you f***ing bitch?
Now I could see that Levi's tail was wagging, and that he was nose-to-nose with their dog, a Boxer mix, who was rearing back on his tight leash.
"Come! Levi, come!" I had to call a few times before he came to me. I put on his leash. I didn't have one for Max because when I'm holding his stick, he won't leave my side.
As I got closer, the women continued to berate me, calling me a f***ing bitch and an idiot. Screaming at me to get both dogs on leash. My heart raced. My stomach tightened. I just wanted to get around them, like I would a raging fire.
Their words felt like physical blows. The urge to defend myself welled up. You're the crazy bitches! The urge to justify: This is an off-leash area! There are dogs all over the place!
Noticing my mind's machinations calmed me a bit. Was I going to get hooked? Was I going to add fuel to the fire?
As I skirted them—their dog lunging—one of the women screamed: "Get your dogs under control! Just because your dogs are nice doesn't mean others' are!"
To me, this place was a playground for dogs where they congregate and bound around together. I was tempted to say that, but I knew she wouldn't hear me.
"Get your f*cking act together!" she screamed.
I gave into the urge to say something, to lash back: "No wonder your dog isn't nice," I said. "You sure aren't."
"You're giving me sh*t? Are you?" The woman not holding the dog moved toward me, chest out, fists clenched.
I didn't respond, just passed by. I threw Max's stick so he'd go running into the water, and picked my pace up to a jog so Levi would be redirected.
I felt bruised. Angry. Victimized. Those feelings moved through my body, like waves.
I thought about not taking it personally.
I felt hate welling up. I hated them. I hated the way they treated me.
I wanted to feel better. I knew that was up to me.
I took a few deep breaths. Watched clouds drift in the sky. I soothed myself: Good job, Kate. You didn't freak out. You didn't meet their aggressive energy. You calmly roped in the dogs and walked by, circumnavigating the conflagration.
Another woman with two off-leash dogs approached. My first thought was, Oh good, let them see I'm not the only one with off-leash dogs.
My second thought was that revenge might feel good, but it feels better to help someone out.
As our dogs sniffed each other, I warned her that around the bend were two women who were angry about off-leash dogs because theirs were aggressive.
"Why don't they walk their dog somewhere else?" she said, pulling two leashes out of her pocket. "Well, thanks for the warning." That felt good because my ego kept saying, "I'm right, they're wrong, I'm right, they're wrong."
Next I saw another woman gathering sea glass. I reached into my pocket and pulled out a light blue piece I'd picked up earlier. I said to her, "Would you like this one?" She looked at me like I was handing over a precious gem.
"Really?" she said.
"Sure," I said, smiling, reveling in the good feeling of giving something away. My ego said, "I'm a nice person. I'm a good person."
As I continued to walk, I thought about the times I've gone off on people: road rage, screaming during an argument, temper tantrums. I thought about times I've been blinded by anger.
Years ago I asked my therapist, "If I'm not supposed to repress my feelings or act out impulsively, what am I supposed to do with them?"
"Just watch them like bad weather," she said. "They will pass."
Pema Chodron says the root cause of aggression, conflict and cruelty is "getting hooked" by something someone else says or does. It's a charged and sticky feeling. "And it comes along with a very seductive urge to do something. Somebody says a harsh word and immediately you can feel a shift. There's a tightening that rapidly spirals into mentally blaming this person, or wanting revenge, or blaming yourself."
I recalled a dog I had years ago who was snippy with other dogs and, once, bit one of my friends. I loved that dog, but it was nerve-wracking taking her anywhere. I didn't know how to handle her.
I know what it's like to be scared, to be angry, to attack, to feel out of control, to call people names. I know what it's like to lash out, to get hooked.
Violence can beget violence or it can beget self-awareness. Empathy. Tenderness. It starts right here, with me.
The sky and the sea melted together at the horizon. Max came back to me and dropped his stick at my feet. I wished relief for the two women, for their dog, for me. I wished us ease, joy, peace.
Love elephant and want to go steady?
Editor: Travis May