"I don't know where I'm a gonna' go when the volcano blows!"
~Jimmy Buffett
Jimmy Buffett's song Volcano, could be the theme song for many on the Big Island of Hawaii who are under threat of an advancing lava flow. Molten lava is predicted to be flowing through the main street of Pahoa—a small village on the Eastern edge on the Big Island of Hawaii—in the next couple of weeks.
Pele, the revered and honored volcano goddess, has chosen to visit an area of her home she has not seen in awhile. Lower Puna is a district of the island heavily inhabited by a resilient community of hippies, farmers, innovators, outcasts, renegades, artists and all-around good people trying to live simple lives in paradise.
It is a world away from the shining high rises and boutique shopping of Waikiki beach in Honolulu.
I moved to Puna more than 20 years ago as a 19-year-old girl looking to escape from the small-minded conservatism of the Bible Belt. The alternative culture and expansive consciousness I found in my newly adopted home expanded my mind and challenged all of my cultural assumptions.
Living on the edge of a volcano didn't concern me—it excited me. I was at an age and mindset that was content to live for the day. And with the constant threat of lava, the area was under-developed with rent and land prices low, a rare treat in Hawaii.
Those of us living on this part of the island are often referred to as Punatics, a term I find endearing. Lower Puna has always been the wild west of Hawaii.
Who else other than a Punatic would choose to live on the edge of the world's most active volcano with limited amenities?
My home near the ocean has no phone lines, power lines or water pipes. We catch our own rainwater and collect the sun's rays with solar panels. If I am lucky I can get a little phone reception by doing the cell phone dance while hanging out the second floor window connected to an antenna on the roof. Forget about using iPhones; they don't have the old-school jack necessary to hook up to external antennas.
But those of us who have made this remote paradise our home have a hard time trading it for anywhere else. For the last two years I have had to split my time between my remote home in Hawaii and the domestication of a Boulder, Colorado suburb. I am acutely aware of how rare it is to live in a place where you can pee in your front yard, take an outdoor shower under a mango tree and collect avocados the size of grapefruits along the side of the road.
For adventure we take night hikes out to view the lava up close and personal. Occasionally I've gotten close enough to poke a stick in the flow.
Believe me, I do my poking with the utmost respect and awe for Madame Pele.
For the most part, we make our own rules in Lower Puna. Yet there is one ruler who has the ultimate say over us and that is Mother Nature. And in this part of the world her most powerful emissary is the Goddess Pele.
Without Pele, the Hawaiian Islands wouldn't exist. It is from her hardened black body that life begins here. She goes where she wants, when she wants. If she decides she wants to clean her house—as many of the Hawaiians refer to it—she will and there is no stopping her.
Pele is our ultimate teacher in non-attachment and surrender. If she knocks on the door, step aside and invite her in. To refuse is futile. The steam and smoke plume in the distance, and the red glow in the sky are constant reminders that this land is her home and we are her humble guests.
Pahoa Village is currently in her path and she is taking no suggestions that she stop her slow but steady journey. Her path will cross highway 130, currently the only paved route in and out of Lower Puna. We literally live at the end of the road.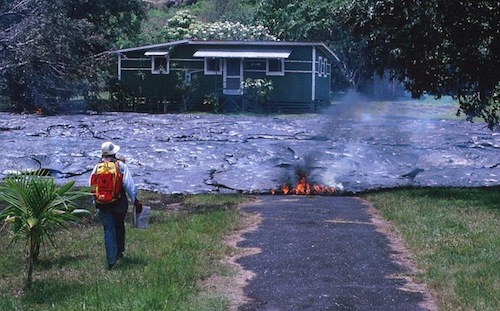 Work is being done to open alternate routes through the jungle and dirt beach road to create corridors to the part of the island that is about to become an island unto itself. But at Pele's current rate of flow, she will eventually cross those roads as she makes her way to the ocean to meet up with her sister, Namaka, the goddess of the sea.
There the rival sisters will resume their timeless steamy battle with their sacred elemental tools, water and fire.
Those being threatened by the lava flow, whether from a potential direct hit to their land and homes, or from the resulting loss of infrastructure, and community and public resources, are responding in different ways. Some have already packed up their belongings and left. Others are creating prayer circles and using the power of collective intention in an attempt to persuade the lava goddess into halting or changing her direction.
There are groups coming together to discuss how to live truly sustainable in ways reminiscent of the ancient Hawaiians but with modern twists. Others are simply in denial and continuing their day-to-day lives as if nothing is going to change. All of these ways of coping are typical when faced with losing something we love dearly.
I had been planning to spend the winter at my house in Puna to escape the Colorado winter and be close to Kalani Retreat Center where I will be hosting my retreats. I chose to homeschool my daughter this year so that we would have the freedom to be away for several months.
Fortunately the lava does not directly threaten my own home at this time. However, being faced with potential isolation, I am not rushing to book flights. Although I have my own source of water and electricity, I rely on Pahoa for groceries and propane for hot water and to cook with. My plans are in limbo as I learn to go with the flow and patiently wait for Pele to do what she will.
When a living goddess knocks on your door, there is nothing you can do but step aside and humbly invite her in.
Love elephant and want to go steady?
Apprentice Editor: Kim Haas/ Editor: Ashleigh Hitchcock
Photos: used with permission by Mary Arroyo, wikipedia