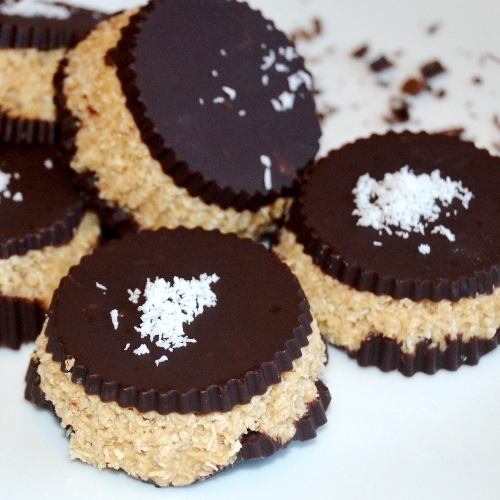 Who wouldn't love a healthy, homemade chocolate cookie?
While cookies are often synonymous with unhealthy ingredients such as sugar and processed fats, it's perfectly possible to make delicious chocolate cookies that are actually good for you.
These raw cookies are a real treat, very low in sugar and rich in magnesium and healthy fats. You'll need dark chocolate with 75 percent cocoa, natural peanut butter and grated coconut. Yes, only three ingredients!
These gluten-free cookies are very easy to make, don't need to be cooked and are very nutritious. Five pieces will easily be enough for five people, including kids! For a great snack, pair them with a piece of fruit.
What you need for five cookies:
½ cup dark chocolate (75 percent cocoa)
¼ cup natural peanut butter
1 ½ tbsp. grated coconut
What you do:
Cut the chocolate into pieces and place in a stainless steel pan on very low heat. Melt the chocolate, stirring delicately with a spatula. Once it's melted, remove from heat.
Add a thin layer of chocolate in five muffin tins and place the tins in the fridge. After about 10 minutes the chocolate will solidify.
Meanwhile, mix together peanut butter and grated coconut in a bowl, until you get a homogeneous mixture.
Take the muffin tins out of the fridge and add a thick layer of the peanut butter and coconut mixture in each tin. On top, add a layer of the remaining melted chocolate (you may need to re-heat it a little).
Place the tins in the fridge until you serve.
Enjoy these wonderful chocolate and nut flavors!
Love elephant and want to go steady?
Author: Anne Ricci
Editor: Emily Bartran
Photo: Author's Own