This is editorial, not a paid native ad. Wonderpress, TD Photography, and 23 Sons do not to our knowledge work together. We're proud to host such a well-researched article on our site. Enjoy, and comment! ~ Ed.
Can a Startup be Green?
Business as we know it is in the midst of a significant revolution.
The online and mobile democratization of information flow has forced a new level of transparency requiring businesses to answer to their consumers.
Before we get into the new model of business, let's take a quick look at the traditional capitalistic business model.
The Traditional Model
Businesses exist for one purpose and one purpose alone—to maximize profit—either for the private owners or for the shareholders. In this scenario, profit is the one and only goal by any means possible. Any corporate donations of this profit are in theory an opportunity for businesses to give back to their community or a nonprofit cause, but often in a more cynical reality are used as a tax write-off on profits.
This model still exists, but the good news is there is an alternative business model that is quickly winning devoted fans and gaining market share.
The New Business Model: The Triple Bottom Line Business
Businesses that abide by this new model report on three metrics of success: People, Planet, and Profit. Instead of focusing solely on profit, businesses incorporate environmental and ethical practices into their day-in/day-out activities. Programs like B Corporation certification are creating a standard and legal structure for these businesses to compete in the free market.
This is the business model of the future.
But while established corporations like Klean Kanteen, Patagonia, and Clif Bar can devote resources toward their missions, is it possible for a startup to begin a business with sustainability as a goal?
With that question in mind, my business, 23 Sons, sat down with a local (Boulder, Colorado) juice startup Wonder Press and produced an interview and video with videographer Tanya Dueri to discuss their business and how they are tackling their sustainability issues.
Wonder Press on Sustainability from Tanya Dueri on Vimeo.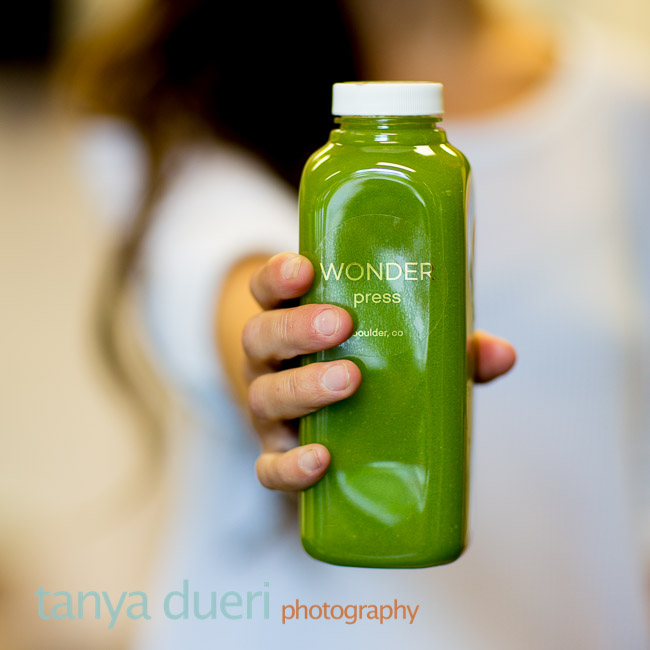 Supply Chain
>> Organic First. Fewer pesticides sprayed on the earth, less pesticide residue in your body. No need to hammer out this point—we all know organic is a good thing.
>> Local. During the summer, Wonder Press partners with local Front Range farmers to source many of their core ingredients, such as cucumbers and leafy greens. The vibrant flavors of fresh local ingredients allow Wonder Press to reduce the sugar content of their juices without reducing flavor, thus aligning with their nutritional profile.
The downside to a commitment to local produce is cost (even more so than buying organic). Local producers along the Front Range are smaller than the big agriculture farms in Mexico and California, which means fewer resources to apply for grant support.
Again, this issue poses a challenge.
The financial strain on the business of buying local has created a situation where the eco sustainability choice (buying local) may not be sustainable for the business' survival (financially). For now there is no clear resolution to the cost issue of buying local, but there are a few options for the future.
First, right now there is a huge boom in small family farmers closer to the end consumer such as in the Front Range—so there is the potential for a slight price decrease with increased economies of scale.
Second, further down the line, the Wonder Press team is considering possibly pursuing the farm-to-table model and actually running a small local farm to cut out the middle man expenses.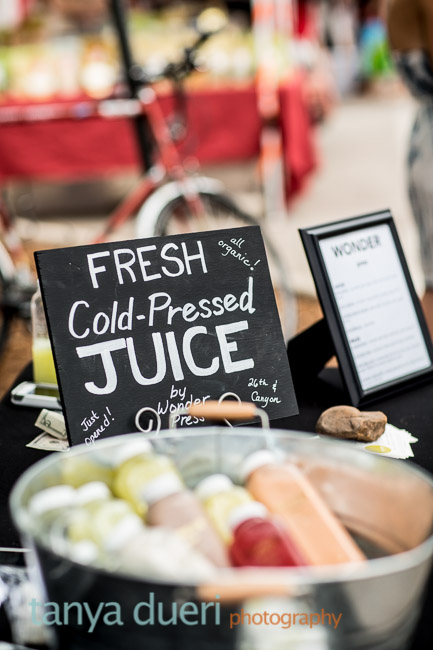 Dealing with Waste
>> Cold Pressed. You can't squeeze blood from a turnip…but you can apply thousands of pounds of pressure and squeeze the maximum amount of juice and nutrition from your ingredients. Wonder Press invested in a cold press juicer, which not only improves the quality of their product, but also reduces the amount of waste from juicing.
>> Pulp. This is currently one of Wonder Press's largest waste steams. When Wonder Press first started, the pulp ended up in the garbage. Getting a business off the ground may mean prioritizing your sustainability goals. The current pulp waste issue has led to several innovative solutions for their new location in downtown Boulder:
Organic Snacks. At their new location, Wonder Press will not only be a cold-pressed juice shop, but a full café serving coffee and treats. Once they have access to their newly-renovated kitchen, the Wonder Press team will create raw and baked snacks from their juice pulp.
Animal Treats. Wonder Press has already started donating pulp to a local goat farm as feed for the animals. They are interested in partnering with additional local farmers to provide nutritious feed for local livestock.
On-site composting.  Wonder Press's new location will include onsite composters for the garden at their retail location.
City Composting. The last resort for the pulp and for packaging, such as the compostable plates and coffee cups, will be the City of Boulder's commercial composting program. Even if you don't have commercial composting in your city, look for innovative ways to maximize your product and minimize your waste stream.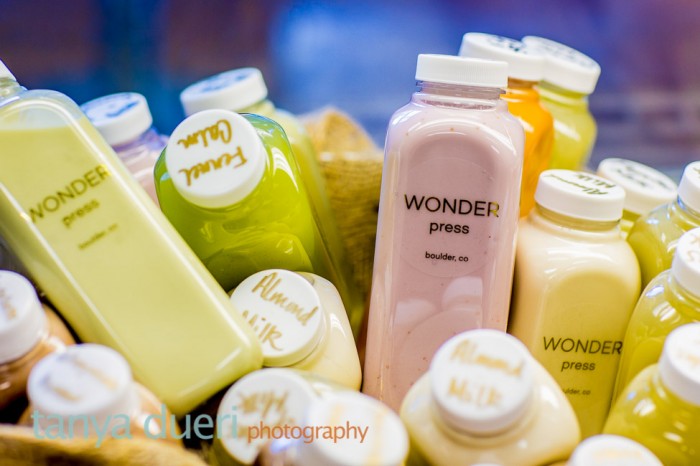 Packaging
Plastic or Glass? The owners of Wonder Press started packaging in plastic; it was the only option as they established their systems for handling glass.
Pursuing the reusable glass option is unique in today's market place.
As such, it took the Wonder Press team nine months just to find a bottle to meet their specs for durability, price, shape, quality etc. Once the bottle was finalized there was another five months of process development and approval by the local health department.
After over a year of struggle, as of Summer 2014 Wonder Press juices are now packaged in reusable glass bottles. Customers pay a deposit and return the bottles for a discount on their next juice.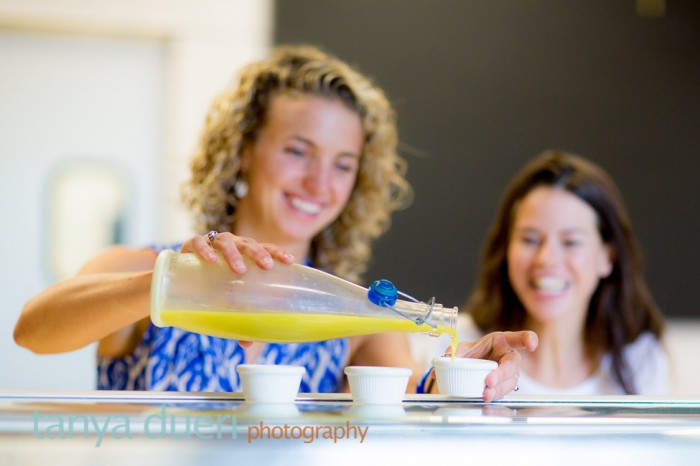 The sustainability challenges in packaging don't end with the reusable glass bottle; glass poses its own waste stream issue—water.
The Wonder Press team thought through the water waste issue and invested in an ultra high-efficiency dishwasher to effectively sanitize their bottles while minimizing water waste. Again, this is also an investment that will reduce the business's water and electricity bills in the long run. Another possibility is using this gray water for irrigation.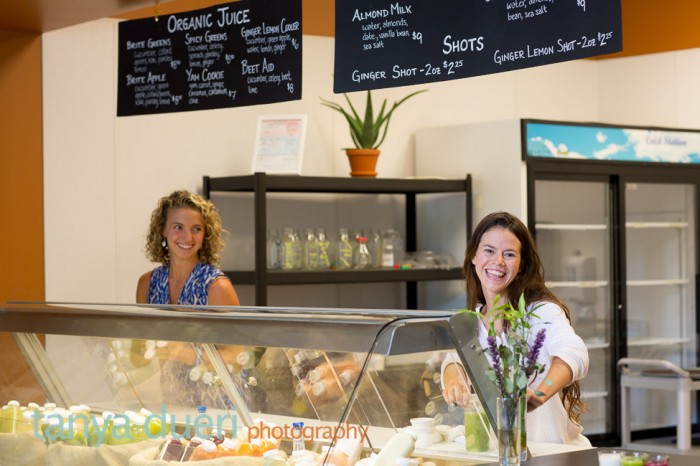 Delivery
Bike Delivery. Within the next year, Wonder Press is excited to begin offering bike delivery to those who live in the downtown Boulder area. Given that my Bike Stylish movement is focused on reducing cars on the road, I could not be happier about Wonder Press's bike plan!
What are your sustainability challenges as you start your business? What have you had to compromises on to get your business off the ground? Comment below and I'll reply.
Love elephant and want to go steady?
Author: Jeanne Eisenhaure
Editor: Catherine Monkman
Photos: Used with permission from Tanya Dueri