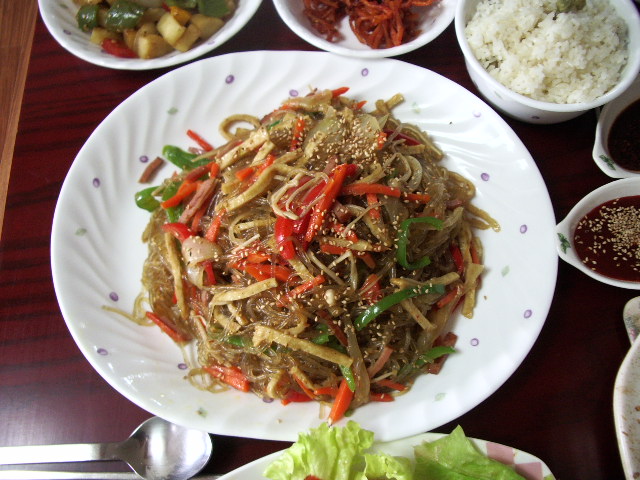 My sister moved to South Korea a few years ago to teach English there.
Ever since, Korean food has been a part of my family get-togethers. The first dish I ever tried to make myself was jap chae. It's a stir fried dish made with glass noodles (made of sweet potato starch usually). The dish is naturally vegan, and if you make it yourself with tamari soy sauce, it's also gluten free!
It's often eaten as a side dish, but being my American self, I like to use it as the main carb sometimes. It's also particularly yummy inside a lettuce wrap!
Here's what you need to make enough jap chae to serve about four to six people:
1/2 lbs glass noodles
1 onion
1 carrot
1/2 cup shiitake mushrooms
1 small bunch green onions
1 cup baby spinach
3 cloves garlic
2 tbsp soy sauce (gluten free)
2 tsp sesame seeds
2 tbsp sesame oil
The glass noodles really don't need to cook, they just need to rehydrate and warm up. Place them in a bowl and pour enough hot water over them to cover them thoroughly, then simply let them stand for five minutes. Then drain them and rinse with a little cold water.
Toss them in 1 tsbp of sesame oil to coat. The noodles are really long, so go ahead and cut them up a bit with a knife or kitchen shears to make them about spaghetti noodle length.
Meanwhile, cut up the carrots, mushroom and onion as small as you can so that they'll blend in with the texture of the glass noodles. Mince the garlic and cut the green onion into small pieces.
Using the remaining sesame oil, stir fry the mushrooms, onion and carrot with the garlic in a pan until they're all softened. Then rip up the spinach into the pan and turn down the heat. Add the green onion and stir, as the spinach cooks it will turn a brighter and darker green.
Once it's reached this color, turn off the heat. Mix the veggies with the glass noodles and sprinkle with the sesame seeds.
All that's left is to dish it up into bowls and eat! Enjoy!
Love elephant and want to go steady?
Author: Kathryn Muyskens
Editor: Catherine Monkman

Photo: Wikimedia Commons