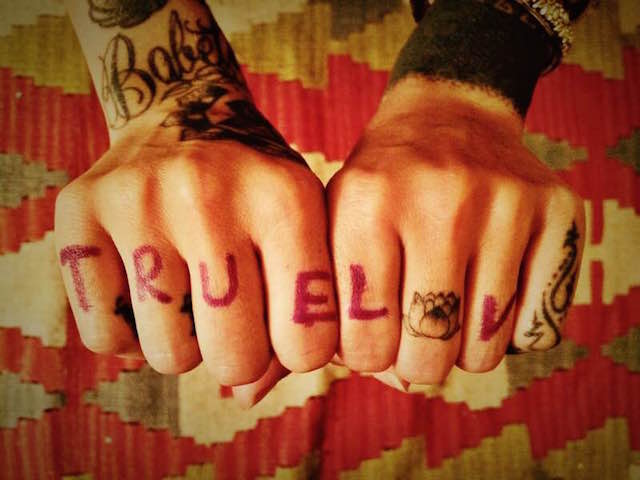 Warning: Naughty language ahead! 
Yoga folks get off on talking about loving ourselves more (myself included).
February gives us even more of a reason to focus and practice loving ourselves with more fierceness and compassion!
But this time around, let's go not just for self  love, but True Love.
There are what seem to be infinite ways to work toward loving yourself these days. But self-love is really ineffective without the ability to truly love, care for and serve others. In a world of self-help and yoga we can be so focused on ourselves that we lose sight of the bigger point and purpose—to serve others with the love that we find within.
That's where True Love comes in.
For some of us (ahem), it has been even easier to love others and so we can learn to love ourselves throughout the process of serving others. How cool is that?! Because, when it comes down to it, no amount of yoga or sound baths or self help will bring us into a place of connection the way really being present to love someone and being genuinely excited for the success of the people in our lives can.
Staying focused on the purpose of how you individually serve will bring you into a state of self-love, automatically, every time—and bring us all together in True Love. It's like a catapult right into the bigness of our hearts where everything is possible.
Here are seven ways I learned from my teacher David Harshada Wagner that will help us get to the True Love within! One for every day of the week, and one extra because I love you so much!
1. More Snuggle, Less Struggle. Allow yourself to be held by universe. When you are feeling alone, snuggling up to your connection and your experience of being held in the blanket of Grace's Love can be great medicine.
2. Let the universe f*ck you, and enjoy it. I'll add and be grateful for it, too. The universe has happiness and pleasure beyond your wildest dreams, it is your job to open up to not only receiving but also enjoying it. You are already worth it, whether you know it yet or not.
3. Beware the enemies of joy. Have a sword to protect the entrance to your heart cave. Find those who you can truly trust with the vulnerability of your heart and practice setting it loose and letting it shine with them. Then, you can do so with confidence and without needing that part of you to be validated by anyone else. Remember you are all love and deserve to be around others who can share and revel in your beautiful light.
4. Don't let your mind cock block your heart. Don't believe your mind, make the relationship to your heart strong, and make your heart be loud. The day you begin to put down the constant nagging and constrictions of your mind and choose to live from the bigness of you heart and soul, your whole life changes. This can be a shift in perspective or finding a meditation or spiritual practice that get your blood pumping.
5. Self-Love through Service. All we can ever do to help others is to stop struggling ourselves. We can do this through extreme self-care, as well as stepping up the way we treat and take care of people in our worlds. When we stop struggling and get beyond our bullshit, that energy is contagious. It is up to us to share it. Being willing to be there and truly see others and what they need is a deep spiritual practice. The more you give, the more you feel in line with the truth in your own heart.
6. Stay in your power and be big. When you learn how to receive the infinite joy and love of the universe, you also have to learn how to stay in your power as you do so so that it doesn't become something separate from you. but something that is you. Every beautiful experience you have can feed and nourish the connection to yourself. Then you can be an awake participant in your relationships, with Spirit and with your life.
7. Command over Control. Picking up being in command of our lives is a great way to let go of that control freak we have that clings to everything and everyone, good or bad. When we are in the driver's seat we waste less energy playing the victim and can find an ease in how we love. I mean, if you had to choose, wouldn't you choose love?
8. Practice and Intention. Knowing what you truly love and care about, what you are really after really helps a ton. Reaching out to others when you aren't feeling the love and taking the plunge with a workshop or retreat that your heart and practice are calling for can be a total game changer.
So that's it—you can pick and choose one or just read them and get a taste of what it's all about.
Join us on retreat this winter at Kripalu to get a bigger dose and let me know how I can support you on your path to True Love!
Love elephant and want to go steady?
 Author: Adriana Rizzolo
Editor: Emily Bartran
Photo: Author's Own