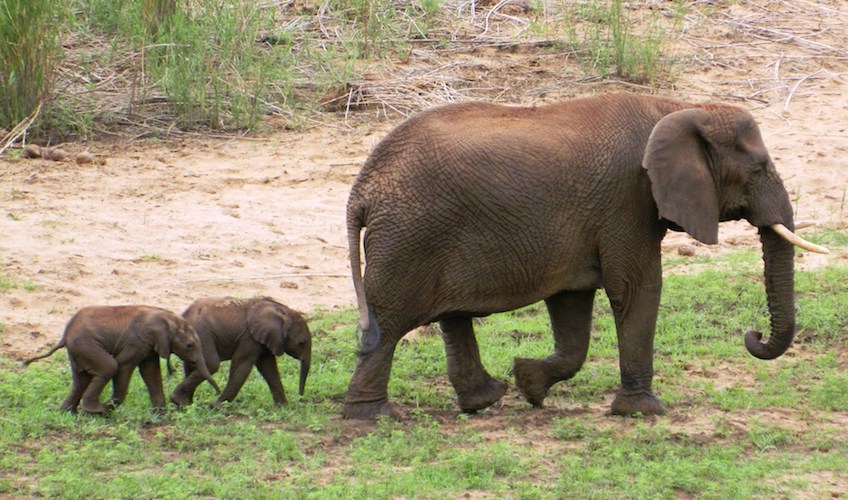 As elephants are arguably one of the cutest and most adorable animals in the world, these images will be sure to melt hearts.
Pongola Game Reserve in Kwazulu-Natal, South Africa has recently had a very rare double arrival to celebrate.
Curve, a 31 year old mother gave birthday to elephant twins in November 2014 which scientific studies suggest is a chance of approximately 0.5%.
Elephants have the longest known pregnancy duration of any animal, which lasts for approximately two years.
It is thought that the father was Ingani, a 44 year old elephant bull, that sadly died approximately a year before their birth.
Fortunately though, as is common in these close-knit elephant communities, the rest of the herd are helping the proud mother with her double bundle of joy.
Almost three months on and the baby elephants are growing well with a very positive outlook for both. This is a great relief as often one doesn't survive for long as the dominant calf will demand the greater amount of milk and much needed attention.
At around the age of three months old the calves will begin to forage for their own food and will be capable of collecting water with their trunk.
Calves will stay at the centre of attention within their elephant family group for approximately three years.
The sex of the babies is unknown at present, as reserve staff are allowing them space to bond with their mother and the rest of the herd, however a constant watch is taking place from a safe distance.
The privately owned four-game Pongola Game Reserve provides a very safe haven for animals and, as yet fortunately, they have had no cases of poachers due to various deterrent measures.
The park is owned by the Landman family with original family members first settling there in 1735.
For more information visit www.pongolagamereserve.co.za or check out their Facebook page.
Love elephant and want to go steady?
 ~
Author: Alex Myles
Editor: Travis May
Photo: Images: Malcolm Thomson, Pongola Game Reserve General Manager. Used with permission.