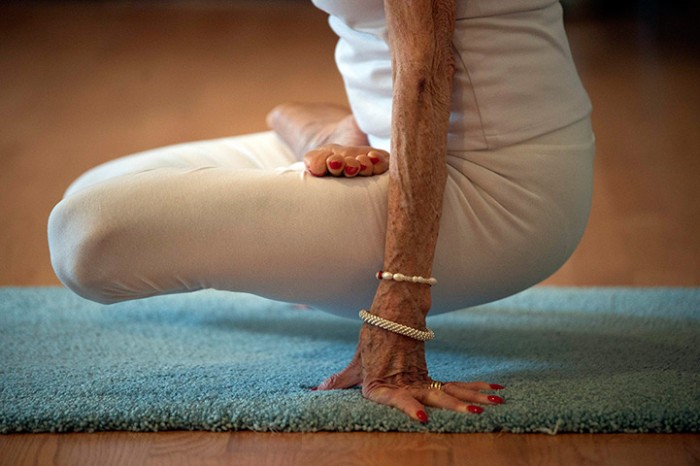 At 96 graceful years of age, Tao Porchon-Lynch is not only an inspiration to all; she is also the world's oldest Yoga teacher.
I have a special affinity with Tao, who was born on August 13th, 1918, as my daughter was born exactly 75 years later to the day.
Tao, who was raised in India, now begins every day in New York rising at 5am to teach the benefits of Yoga to students of all ages.
Tao is also a ballroom dancer who dances with a 26-year-old partner.
With Tao Porchon-Lynch's philosophy for life being, "There is nothing we cannot do if we harness the power within," it is clear to see why she is cherished the whole world over.
Tao's wisdom resounds in my mind everyday as my morning begins; here are a few of her most precious words:
"When I was eight, I saw a group of boys performing crazy postures on a beach in India. My aunt told me that being a girl, yoga was not for me. But, I wanted to do it and I said, "If boys can do it, so can I."
_
"When I wake up in the morning, I know that it's going to be the best day of my life. I never think about what I can't do. Make sure positive thoughts are the first ones you think in the morning. And never procrastinate."
–
"Yoga is the joining of our mind, body and spirit. It is like nature, everything is always recycled and brought full circle. I find that I can heal myself if I do what nature does. It's taken away stress and has helped me through crisis.
_
"Leave your yawns behind you and feel the tiny new breeze of life lighting up inside of you."
–
"I watch the beauty of nature. It is telling me that even the trees get more beautiful as they age."
–
"Pack into your mind and body the sound of the music of your heart. Don't let it prevent you from wasting time experiencing the wonders of life." 
–
"Don't put too much on your plate! Don't overeat. Don't fill your mind with fear. Tomorrow never comes, don't procrastinate."
–
"One hundred year old trees still recycle themselves and come out with new flowers. Recycle yourself. Know that nature gives you the clues to living."
–
"I never thought anything about age. I believed sincerely and still do, that there's nothing I cannot do. I believe that all the power in the universe is right inside me."
–
"I'm going to teach yoga until I can't breathe anymore then I'll just fly away to the next planet…"
–
"Autumn is a reminder that while the leaves die and fall, there will always be Spring, a change to replenish and be born again. We all have the opportunity to replenish ourselves, to be reborn."
–
And one I live whole heartedly by:
"In my head I'm still in my 20's, and I have no intention over ever growing up."
–
The final and most perfect conclusion:
 "I never say goodbye, I say, "au-revoir." Goodbye is so final. Au-revoir means I will see you again."
 –
Author: Alex Myles
Editor: Caroline Beaton
Photo: Flickr