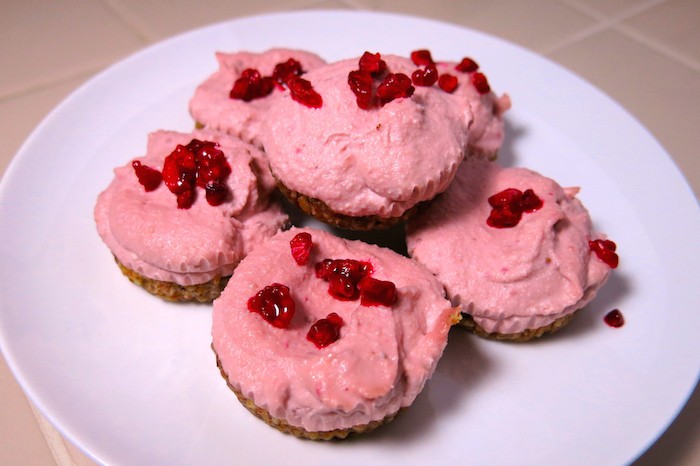 Just in time for Valentine's Day!
But don't fret, these little dairy-free cheesecakes are wonderful anytime of the year. They are sweet and tangy and they actually taste like cheesecake, but without all the bad stuff. Plus, they are super easy to make!
Raw Vegan Strawberry Cheesecakes:
Crust:
¾ cup raw walnuts
¾ cup raw almonds
12 pitted medjool dates
Cheesy Filling:
1 ½ cups raw cashews (soaked for 5 hours, drained and rinsed)
1 lemon (juiced, about ¼ cup)
⅓ cup unrefined coconut oil
⅓ cup honey or maple syrup
½ tablespoon vanilla
6 large strawberries (if frozen, thaw first)
Pinch of Himalayan pink salt
Optional topping: frozen raspberries
First, blend the crust ingredients in a food processor until well combined (about one minute). Put the crust mixture into a muffin tin lined with either reusable or unbleached paper baking cups and press firmly into the base of each. Do this 12 times, making sure the nut mixture is even throughout the muffin tin.
Next, blend the filling ingredients in a food processor until well combined (about one minute). Spoon the filling on top of the crust mixture evenly for all 12 baking cups. If desired, top with frozen raspberry "sprinkles."
Lastly, put the muffin tin in the freezer for at least two hours to allow your treats to set. Once they are ready, taste your creation! If you don't eat all of them right away, then you can store them in a sealed glass container in the freezer. After a lengthy storage in the freezer (>4 hours), take them out about one hour prior to eating. Enjoy!
Author: Marley Jennings

Editor: Caroline Beaton

Photo: Author's own