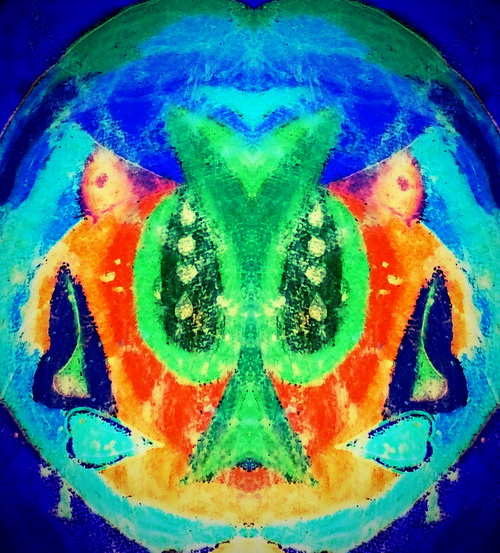 "We must be willing to encounter darkness and despair when they come up and face them, over and over again if need be, without running away or numbing ourselves in the thousands of ways we conjure up to avoid the unavoidable." ~ Jon Kabat-Zinn
"Come and see: As above so below; as below so in the sea; as high above so in the upper sea; as above, so below; as below so in the lower sea." ~ Zohar Beshalach 2:48b
The personal is political and the political is personal, but we still see everything as separate and so we ask:
How did we get here? How has all this happened? How could there be such a mess here, in our midst, among us?
We want our brains to answer, scramble to form conclusions, but it's our hearts that are hurting.
The temptation can be so strong, to hide under the covers where it's warm and safe, even though we know deep down that in this state, nothing can enter and we can't get out.
We try to change things without actually taking the steps needed to change from the inside out, and this is the primary—primal, even—contradiction in a vast sea of them; and the cycles of human suffering continue.
The solution isn't to stop blaming others and start blaming ourselves, because accountability is not the same thing as blame, and because self-blame doesn't solve the riddle of this mess we find ourselves in any better than blaming others does. Neither can we can't blame the mess for being what it is, which is what we are.
But we are beautiful. Beautiful things shouldn't be able to generate ugliness in the world.
Yet here we are. It is made, and some of it is very ugly.
Our contradictions and paradoxes are not to be avoided, or forever indulged. They come directly from us and they're interesting, and need to be acknowledged, observed and witnessed.
Humanity, glorious as it is, is a messy adventure, whether we understand how we have come to be here and how, or not.
Our contradictions are the building blocks not of the world, but of our self-understanding.
We respond, for example, to notions like be positive, and go for it! with triumphant determination, but say no when resistance presents itself.
We don't like facing resistance even though doing so engenders change and allows for creation.
We feel the need to go easy, the way of comfort, and resent that no revelations emerge on this path.
We want to fly without leaving the ground.
We want to think through our feelings and infuse our dreams with common sense.
We think sad is wrong and happy is right—we think there is wrong and right, like we think there is you and there is me and that our existence in no way depends on each other.
We think that, from the position of separation, we can know the realities of the other.
We think we can filter everything through a framework of knowledge and wonder why we aren't reaping the rewards faith brings.
We think the only way to feel good is to feel good immediately, and always.
We think there is an always, even though nothing lasts as long as you can hold it, and we're going to die.
We think dying is something to be avoided though dying is inevitable, without exception.
We think living long is better than living well, without wondering where this idea comes from.
We think we can run away.
We want to make the best use of our time and then clutter our minds and environments with distraction.
We want to be understood within this cluttered environment filled with distraction.
We want clarity without making things around us clear and free.
We want to see through the mess of our own creation.
We want. We run in circles. We want some more.
The beautiful thing, though, one of the most precious things about being human, I think, is that we do want to see, to understand.
And this is because of love. Love compels us to emerge from the chaos and into something something softer.
Because we have consciousness (which is love-fueled), we have the drive and impulse to get down to the bottom of things, to have clear vision and a space for compassion. This unites us even as our distractions and messes attempt to pull us apart.
This strong pull toward the best kind of survival—a mindful, conscious, clear and compassionate survival—is something we should be so grateful to have in our human arsenal.
With it, we can move toward self-enquiry, find the deep, quiet spaces within, from where we can glimpse at the idea that there are no real contradictions, and start to plant the seeds of a wise transformation, though we are not yet always wise.
Seeing past our contradictions, guided by love: this is the great, human hope amid a mess that need not remain.
Author: Tammy T. Stone
Editor: Emily Bartran
Photo: Author's Own