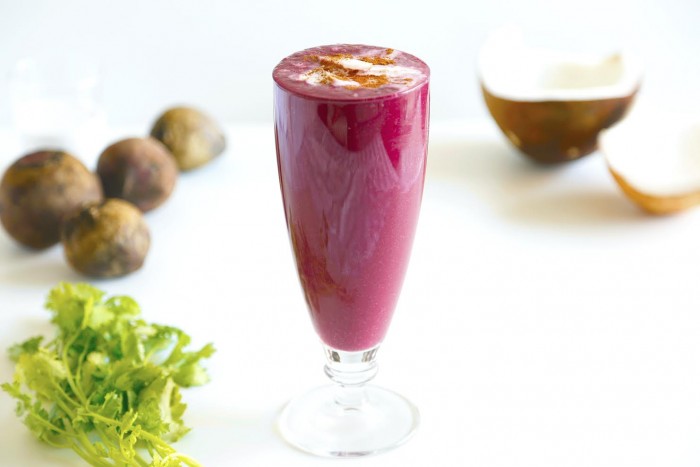 When I first heard about the "BBC Smoothie," I was intrigued. BBC stands for banana, beetroot and coconut.
I had never thought of putting whole beetroot (I sometimes put beetroot juice) in my smoothie. But being an adventurous cook, I decided to give it a go.
It tastes absolutely amazing! But I wouldn't be me if I didn't "healthify" the recipe with some kale, cilantro and ginger for extra chlorophyll, minerals, vitamins, antioxidants and anti-inflammatory properties. Please note that you don't need to watch BBC to get the full benefits of this smoothie.
So this is what I came up with. Feel free to play around with this recipe. Just keep the main BBC ingredients: bananas, beetroot and coconut milk (or opt for a fresh coconut).
Servings 2-3
Ingredients:
6 ripe bananas

1 small or medium beetroot

1 cup of kale

½ cup coconut milk

A sprig of cilantro

Small piece of ginger

A dash of cloves and/or cinnamon (optional)

1-2 cups of water (more or less, to reach the desired consistency)
Instructions:
Place all ingredients in a blender and blend until smooth. Pour into a glass and enjoy!
This smoothie should be on your bucket list. You'll thank me later. 
!
Author: Osha Key
Editor: Caroline Beaton
Photo: Courtesy of the author