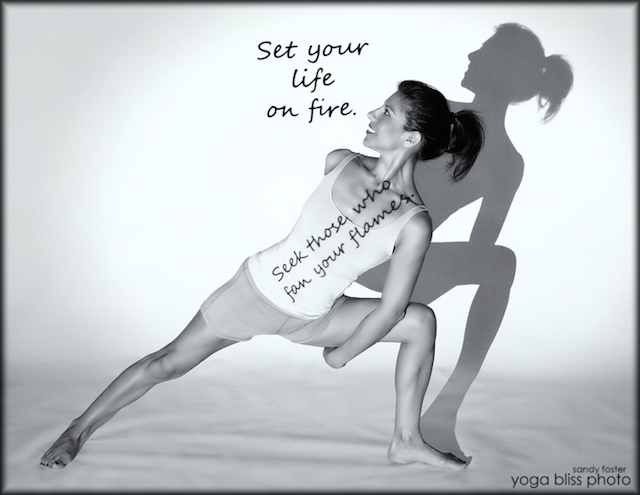 Spring is upon us. I am unfurling into bloom once again. So is the earth. So are you.
It is inevitable, this rebirth, new life, new dreams.
Throughout the seasons of our lives, we all transform between fierce and quiet, hopeful and sad, soaring and fallen. Sometimes during particularly cold winters, we freeze.
This Spring, as I expand with new life, I am reminded of a frigid winter.
Just five winters ago, I almost let my dreams die when I turned to ice and stopped flowing.
Five winters ago, I was a single mom of two young children coming out of a relationship that ended traumatically after 10 years of marriage. I was working for people who didn't value my education, skills and work-experience and paid me less than my worth. I had friendships/relationships with others who didn't genuinely love and support me.
Frozen, I was giving away my potential, sometimes with a smile on my face.
Some days I didn't recognize myself. But when I got really still, in the dark of the winter nights, I could feel an ember of warmth. It was my passion, keeping me alive and I set the intention to keep imagining the life I desired no matter how farfetched.
Any time I could, I fanned that ember into flames. 
Temporarily, I'd give myself permission to experience intense moments of pleasure and joy. I'd light up on a yoga mat, in an anonymous blog I'd write or dance ecstatically (sometimes after too many chardonnays).
Five winters ago,
I was told that single parents must sacrifice themselves no matter the cost.
I was told I should give up my dreams and suck it up with a 9-5 job that paid the bills, taking anything that was offered.
I was told I should put my kids in childcare and leave it up to others to comfort them.
I was told there was no way I should/could start a new business with no capital and survive.
Someone very close to me said, "Stop dreaming. Go get a real job like everyone else."
But in the dark of that very winter,
I made the choice to not listen.
I kept imagining. 
Five winters ago,  imagined the life of my dreams.
I imagined working a job I love, serving others, being creative, feeling free.
I imagined raising my kids myself, not hiring another to do it, mothering consciously.
I imagined friendships and familial relationships that feed my soul and add joy to my life.
I even had the audacity to imagine a lover/partner on a similar soul-path, one who cherishes me and doesn't try to fix the broken parts.
I imagined that I'd figure it all out someday.
Even when you are stuck, frozen, frigid,it is possible to manifest the life of your dreams. 
We all have a spark. I'm writing this to remind you of yours.
Imagine the fire within.
It is not without hard work, lots of fanning of the flames, but I am evidence that it is possible.
I began by moving forward (breaking the ice) with intentions, practicing what I preached and disregarding what didn't resonate with my soul.
Now,
At the end of this winter, with gratitude I am moving in to yet another promising spring:
I am working a job I love, serving others by teaching yoga, meditation and writing courses. I own my own company and teach to teenagers in a private school that lights up my soul.
I am raising my kids: taking them to and from school, doing homework, volunteering, spending quality time with them.
I am nurturing solid friendships with people that ignite my passions and genuinely love and support for me.
I am courageously partnered with a man I wholeheartedly cherish and we don't try to fix each other as we grow.
I am figuring out that I always figure it out along the way.
The details of how I manifested this life can be found in my practices of yoga, meditation and writing.
But, the why I manifested this life is our common thread, yours and mine.
Why? Because we all deserve to live the best life we imagine for ourselves.
We deserve to live our dreams.
It starts with the audacity of imagining more for ourselves.
Do not listen to those who insult your soul, downplay your chances or belittle your dream!
Sure, common sense is necessary and it doesn't happen overnight.
Certainly you will need support somewhere. Find a yoga studio, running club or gym that resonates with you. Write your guts out and burn the pages, or keep them and start a blog. Go to workshops that fan your flames. Sit in stillness every day for five minutes. If you're too busy, sit for 10 minutes.
Imagine all of the dreamers out there living the life of their dreams.
We will walk alongside them. We'll figure this out together.
May we all live this life moving toward our imaginings, practice what we preach, staying authentically ourselves.
It is not always easy. Yes, it is possible.
Are you ready to live the life of your dreams this Spring? Unfurl. Bloom, once again, like the trees.
It is inevitable, this rebirth, new life, new dreams.
Imagine.
"You may say that I'm a dreamer, but I'm not the only one." ~ John Lennon
~ 
Relephant read:
Author: Christina Collazo
Editor: Ashleigh Hitchcock