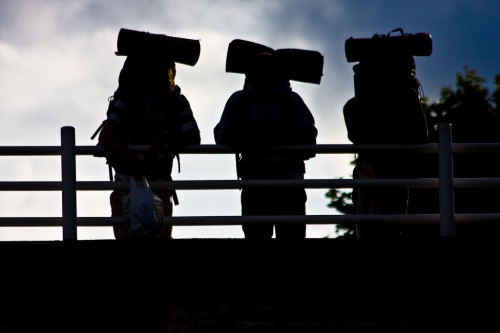 I wrote this, not to try and convince you that you're a backpacker, but so backpackers can read it and have something to relate to—and have a good laugh.
Odds are, if you are a backpacker, you can relate to some or all of these. Let me know!
1. You secretly look down on people with large luggage or rolling suitcases, because you managed to pack your whole life in a 50 liter backpack.
2. It' s not out of the ordinary to spend the night at the airport or train station, to save a night's accommodation fees.
3. Your future travel plans have "visa runs" factored into the itinerary.
4. You know what the term "visa run" means.
5. Your future travel plans include meeting up with people all over the world, whom you met on the last trip.
6. When asked, you're not sure what to write down as your permanent address.
7. But when asked, you have your passport number memorized.
8. To you, hot water is a luxury. Sometimes even just running water.
9. Even if traveling alone, you haven't had a room to yourself in a really long time.
10. You really aren't sure what day it is, unless there's a beer special at the pub. Everyday is Saturday.
11. You can say "cheers" in 10 different languages.
12. You can sleep anywhere—noisy park benches, crowded dorm rooms, airports.
13. You normally ask someone where they are from and remember them by that, rather than by their name. "Hey, where's Miss Norway?" "Have you seen Kiwi?" "Where did Swiss Girl go?"
14. You have a permanent sunglasses and flip-flop tan.
15. You would rather go sit on beaches in Costa Rica or Thailand than have a mortgage.
16. Love it or hate it, you know what city Khoa San Road is in.
17. You avoid people who have the same accent as you like the plague.
18. You search hostel booking sites with lowest to highest price function, and consider the top three.
19. You don't remember a time where you didn't shower with flip flops on.
20. $3 for a cocktail, fine. $3 for a meal, no way. Beer has calories, right?
21. If you book a hostel online, the deciding factor is usually if they have free breakfast or airport pickup.
22. You have made friends with people all over the world, so have free places to stay on nearly every continent.
23. You constantly laugh at people who worry about travel safety warnings in a country.
24. You would stay at a hostel without hot water or a kitchen, but not one without wifi.
25. You've worn the same five shirts for the last six months.
26. If you ever find a hostel with toilet paper in the bathrooms, you vow you will leave a great review. A hostel that you can actually flush the paper in—out of the question.
27. Even your bad times on the road turn into good memories, and you talk fondly of them.
28. You've mastered the art of staying up until 6 a.m., and still managing to be up in time for the free breakfast.
29. You secretly look down on vacationers. "You can't see anything in Thailand in two weeks!" You consider yourself a backpacker, not a tourist.
30. Everyday your Facebook status says you have a new friend—all from different countries and whom your friends back home think have funny names.
31. You know every place within three miles that has free wifi, wherever you are. All of a sudden, McDonalds has become useful because of this.
32. There have been times when you've been on a constant pasta diet/budget. Three meals a day—pasta. Also….
33. You are an expert at making different variations of cheap pasta. Pasta with tuna. Pasta with pieces of hotdogs. Veggie pasta. The list goes on.
34. You have tons of bracelets from different countries on your wrists.
35. You sniff-check your clothes to see what you should wear that day. With socks, it's the ones that don't stand up on their own.
36. You're an expert at coming into a dorm at night and getting dressed by cell phone light, without waking anyone.
37. Having sex in a dorm with 10 people is socially acceptable. In fact…
38. Sometimes you sleep even better when someone is rocking the bed underneath or above. You put in the head phones and get rocked to sleep.
39. You take packing light to another level. Souvenirs just weigh you down.
40. You've run out of passport pages.
41. The item you lose the most at hostels—besides your dignity—is your quick-dry towel. After a shower you hang it on a bunk and forget it.
42. You've been known to get to a new hostel and rummage through their lost and found and find someone else's quick-dry towel that they forgot. You keep it, even if it's pink.
43. For you, finding a half-empty bottle of shampoo in the shower is like gold.
44. You look down on people who use guide books. You plan your travels from the recommendations of fellow backpackers.
45. You've flown on Ryanair, Easyjet and Wizzair enough times that flying any other airline feels like a first class upgrade.
46. You honestly cannot imagine having a real job again and vow to never return to the "real world" nine-to-five life.
47. You are too busy to shave, even though you are more free than ever before. Your friends wouldn't even recognize you.
48. Your friends back home have tons of postcards on their fridges from you—and secretly hate you.
49. You can eat street food for every meal, as long as it's cheap. In fact, you prefer it.
50. You know you're a backpacker, because while reading this you kept saying, "That's so true!"
Relephant Read:
Author: Justin Carmack

Assistant Editor: Hilda Carroll / Editor: Emily Bartran
Photo: Garry Knight/Flickr

Facebook is in talks with major corporate media about pulling their content into FB, leaving other sites to wither or pay up if we want to connect with you, our readers. Want to stay connected before the curtain drops? Get our curated, quality newsletters below!