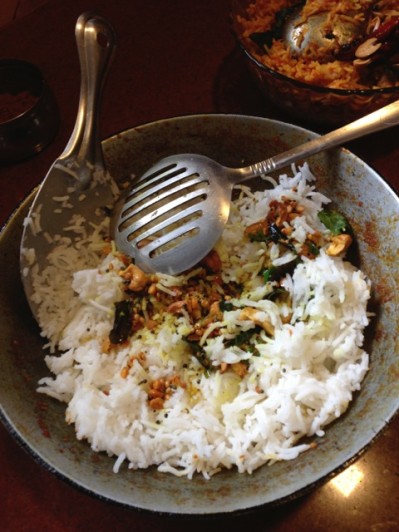 As part of our Tasting Royal Rajasthan Culinary Adventure we are fortunate enough to be invited to a home for a cooking demonstration and lunch.
Amma is the family's matriarch and she makes the best lemon rice, taking care to cover each grain with the delicious seasonings.
Ingredients:
Base:
1 1/2 cup basmati rice
Seasonings:
2 teaspoon cooking oil
2 teaspoons of Chana dal
2 teaspoons of white urad dal
About 10 cashew nuts broken up
2 teaspoons of black mustard seeds
3 dry red chillies
1 teaspoon Turmeric
Asafetida (optional) a pinch
Stir-ins:
1 sprig of coriander leaves finely chopped
1 inch of ginger finely chopped
1 green chilli finely chopped
juice of 2 medium size lemons
Preparation:
1. Cook the basmati rice.
2. Place the cooked rice in a large bowl and ensure that the grains are separated.
3. In a wok heat the oil, add the chana dal, urad dal and cashew nuts till they are very slightly brown.
4. Next add the mustard seeds, and when they sputter add in the red chillies.
5. Add turmeric and asafetida. Pour this over the rice.
6. Add the coriander, ginger and green chilli.
7. Salt to taste.
8. In the end add lemon juice.
9. Mix the rice gently and well.
10. Ready to serve with green chutney, raita or rasam.
Yield: 4-6 People.
Author: Peggy Markel
Editor: Katarina Tavčar
Photo: Peggy Markel
~
Facebook is in talks with major corporate media about pulling their content into FB, leaving other sites to wither or pay up if we want to connect with you, our readers. Want to stay connected before the curtain drops? Get our curated, quality newsletters below!