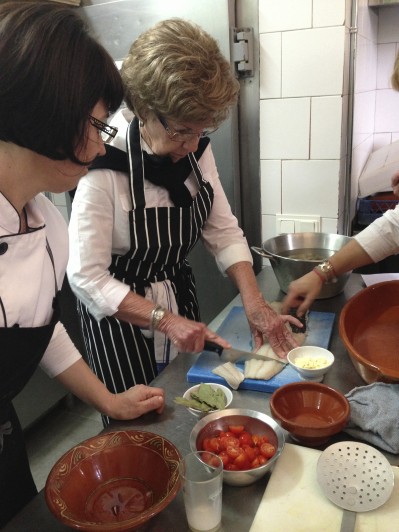 During our Culinary Adventure in Spain, The Scintillating Flavors of Seville, we stay at two amazingly charming properties: a historical boutique hotel in the old centre of town and an hacienda filled with bougainvilleas in the countryside.
This balance of urban and rural environments energizes us and opens us to even more flavour possibilities.
At the Hacienda de San Rafael we are lucky to be allowed into the sacrosanct realms of the kitchen, ruled by Chef Isabel with a masterful hand and kind smiles. During our last visit she shared this wonderful recipe with us, perfect for guests or easy enough for everyday lunch.
Moist cod gets topped with fresh tomatoes with a touch of Sherry—delicioso!
Ingredients:
Base:
400g cod fillet (14 oz), cut into 3 or 4 serving portions
olive oil to drizzle
salt and pepper
Tomato topping:
2 tablespoons olive oil
4 finely sliced garlic cloves
2 laurel or bay leaves
12 cherry tomatoes, halved
2 tablespoons Fino sherry
2 tablespoons Sherry vinegar
salt and pepper
parsley (optional garnish)
Preparation:
1. In a baking sheet, drizzle olive oil to coat and place cod on top. Season with salt and pepper. Bake in the oven for 5 minutes at 375 degrees F (190 degrees C) until cooked through.
2. Meanwhile, add olive oil to a sauté pan over medium heat and sauté garlic and laurel/bay leaf until pale golden. Add cherry tomatoes, Fino and the vinegar, salt and pepper to taste and cook for 5 minutes over a strong heat and then take off the heat.
3. Serve the cherry tomatoes and sauce on top over fish.
4. Garnish with chopped parsley if desired.
Serves 3 or 4 (smaller portions).
ž~
Author: Peggy Markel
Editor: Katarina Tavčar
Photo: Peggy Markel
~
Facebook is in talks with major corporate media about pulling their content into FB, leaving other sites to wither or pay up if we want to connect with you, our readers. Want to stay connected before the curtain drops? Get our curated, quality newsletters below!