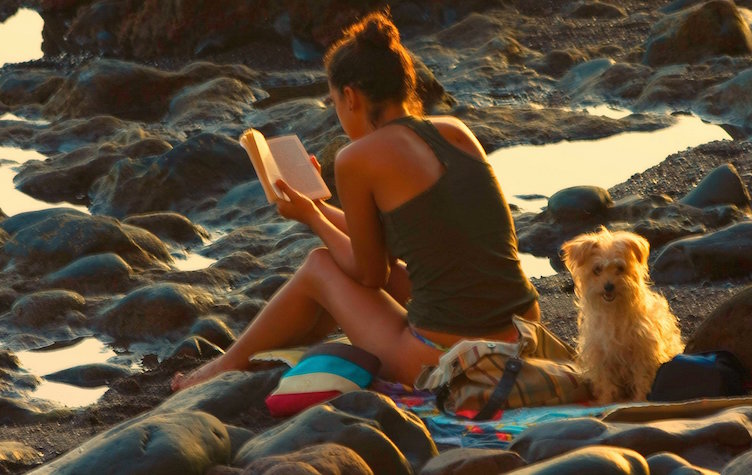 Mindful words, meaningful mantras, ancient laws—over the last decade, it has become more and more popular to use words as a means of self-improvement.

 
"Quotes on…" has become one of the most googled phrases online in the hope that surrounding ourselves with words of wisdom will inspire us and guide us to whatever we seek.
I admit. I'm game!  Stemming from my early teens, I savor the pearls of wisdom I find, highlight the passages and search for the meaning between the lines.
A university class in Medieval Philosophy made me realise there is a name for the deliberate, meditative reading I am used to doing: Lection Divina (divine reading in Latin). Originating from the Christian monastic tradition of Saint Benedict, lection divina means allowing a text to speak directly to your heart as you take in its meanings.
While Lectio Divina has Christian origins, I've adapted this practice to my own personal kind of meditative reading  prose, poetry and scripture from a variety of backgrounds. I've experienced that the benefits transcend tradition and conviction. Through my own meditative reading practice, I've discovered four steps that will help anyone gain a better understanding of the inspirational words they read and surround themselves with.
Select a text that speaks to you. Do you like mantras or affirmations? Use mantras or affirmations. If scriptural phrases are more to your liking, use your favourite piece of scripture. Prose, poetry, as long as you feel drawn to the content, the form does not really matter.
The content I select largely depends on the theme that is present in my life at that moment. At the moment Haiku Mind: 108 Poems to Cultivate Awareness and Open Your Heart, a collection of haiku's edited by Patricia Donegan and Paulo Coelho's Manuscript from Accra are my favourite reads. Often though, I also randomly pick a piece out of a pile of inspirational books I've got on my reading table. And lo and behold, it usually fits the situation anyway.
Find a suitable place for you to sit undisturbed for least five to 10 minutes with your text (I found out that  a mug of soothing herbal tea makes a perfect companion for this reading practice). Now make sure you sit in a way that your body is steady and restful. Stillness in the body facilitates stillness in your mind, giving you a natural alertness and calm.
Direct your attention to your chosen text. Take a deep breath to clear your lungs, preparing yourself for a new breath of fresh air. Now quietly and calmly read your text, word by word. Take your time, sitting comfortably in the here and now, repeating the words, focusing on breath, the rhythm and unity of it all. This is your time, this is your space, this is your flow. Read again the phrases that resonate most deeply with you and let them sink in.
Now slowly turn your thoughts to the words you just read. Contemplate the words and apply what you read to yourself. What comes to mind? What do these words mean to you in this moment? Really let the words vibrate in your heart. What do these words show you? Let the words sit within you. What little lesson can you take away?
How can you make the lesson yours and how can you make good use of that lesson today? Take as long as you need with the words and wrap your mind around them. If you like, write down your "little lessons of the day." I myself love writing so I'm keeping a notebook of these small personal insights and revisit them as inspiration to journal, paint or meditate.
When you've feel like you're done, close your book, close your eyes, and stay a few minutes in silence, as long as you need. Then simply take a deep breath. Open your eyes to the world, and look forward to another beautiful day. You started the day with wonderful intent, a clearing of your inner space with precious words.
The daily practice of meditative reading quiets my mind, refreshes me and gives me a zest for relentless exploration of life. I hope I offered you some guidance and inspiration to start your own practice of  meditative reading—as a new practice, or possibly as an added bonus to your regular meditation practice. Happy readings!
~
Relephant:
~
Author: Elles Lohuis

Editor: Travis May
Photo: Wikimedia

~
Facebook is in talks with major corporate media about pulling their content into FB, leaving other sites to wither or pay up if we want to connect with you, our readers. Want to stay connected before the curtain drops? Get our curated, quality newsletters below!