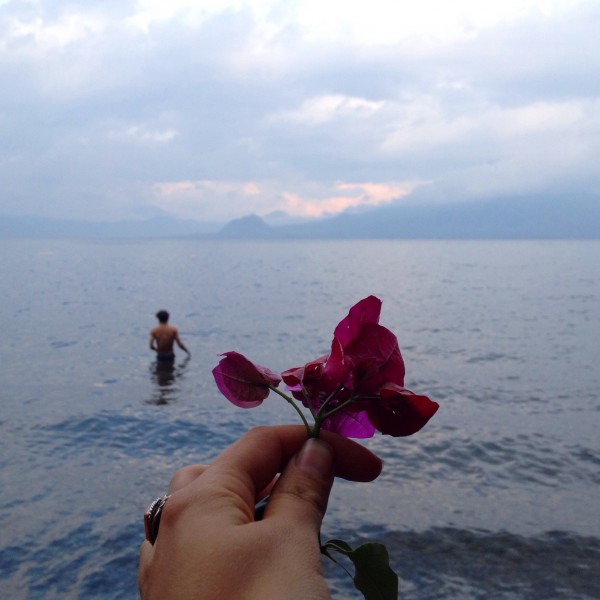 Sometimes love stories are not love stories, and sometimes they are if only for a minute.
Sometimes there is romance and grandiose gestures and we wish to fall in a New York minute heart beat, but we simply don't.
We sit at a large brown oak or cedar or mahogany table with orange sequined and yellow tablecloths, beside bursts of yellow sunshine and red roses that don't smell as sweetly as they should. Robbing the world and morning of joy it believes it deserves—and it does deserve it really, it deserves the love and warmth lingering from the night before that doesn't always stay.
And do I wish to stay with you.
As I write this half my heart is already pulling on your big grey sweater and running out the door to drink a coffee with you.
I want the walls of this beautiful house to be full of hearty laughter, of the sounds of tongues dancing and lips moving and hands lifting clothes too big for my slender waist.
I feel the click of the white door as I lock it, and the crumple of the blankets as I crawl into a separate bed, alone, each night and feel as if we are missing the moon while we look beneath the sheets for the stars.
Yet I sleep alone anyway—for my red heart swells tenderly in my chest for you and I do not allow men in my bed unless they intend on keeping my whole heart and I do not know yet, if I want your whole heart.
This feels cold, as I speak it from the end of your bed, when you desire a warm body beside you—but it is the kindest thing I can do for your tired heart.
You are so ready to be loved richly—and if it is not I to do so, I do not wish to fill the space another must walk into.
If it is me, I want to drink coffee, naked on the floor and listen to classical music or not classical music and disappear from the world with you—sink into the cracks and fall in love.
Hold hands walking upon red dirt at dusk through blue mountains and pine cones and snow-covered peaks. Listen to the crunch crunch and the rise and fall of my lungs working beneath my chest.
I want soft white and orange paws with a freckled nose to walk before me and your round brown hat and red beard to follow me.
I want to take your warmth in the morning and the evening and give you mine back in the afternoon.
I want you to relax into me—not collapse into me.
You take care of yourself well enough, but I want you to take care of you harder. I want to cook you hearty meals, or pretend to cook you hearty meals—have something hot to nourish your body midday.
I want to buy candles that smell like lavender and matchboxes with a red ship drawn on, when there is none.
But I am sitting here, with cold toes, and no coffee and reading words we wrote when they were just words—easy to throw into the world.
But love is not easy.
Intimacy is not either.
And there is passion and stubbornness and talking, lots of talking, and moments of heat in my belly, and two souls moving fluidly towards that which they love—but as you said, we are walking away, passing by instead of going deep.
And I am lingering, for when we pass I do not look down or away—I look at you, and in some moments I reach for you.
I am not done reaching for you, and I am not ready to go deep—you are, and it makes my heart ache this morning.
I want to be the greatest love story we've ever had.
I want to sit in the bath together and read The Great Gatsby and the New Yorker and start our days with kisses that taste like sunshine and strong coffee (because I made it). I want to know all of you—the show and the loudness and be able to smile with crinkly eyes and sun stained hair all the while for I knew you, without it, first.
You've opened to me, and I am standing by the brick wall fluttering.
In some moments walking towards you, but never sprinting—and you know this and I know this and now the white blank paper knows it too.
Relephant Reads:
Author: Janne Robinson
Editor: Renee Jahnke
Image: Author's Own
~
~
Facebook is in talks with major corporate media about pulling their content into FB, leaving other sites to wither or pay up if we want to connect with you, our readers. Want to stay connected before the curtain drops? Sign up for our curated, quality newsletters below.