There's broga, which is yoga for bros. Then there's Broga.
Lots of people have thought up that pun, "broga," including writers for elephantjournal.com.
Of course they have. Brothers doing yoga. That's funny, 'cause everybody knows bros don't do yoga.
Surveys show that in the Western world 80 percent or more of yoga practitioners are female. This is doubtless due to deep cultural factors and such.
It took partners Robert Sidoti and Adam O'Neill to recognize this masculine minority group, trademark Broga, lay claim to brogayoga.com, and license Broga instructors from Portland, Maine to Park City, Utah.
This is not to mention classes in Canada and Denmark, plus plans to expand into the United Kingdom and Australia by the end of the year.
Broga has licensed 248 instructors—up from 11 in 2012—and is closing in on 15,000 students, about 85 percent of them male.
That's a neat reverse spin on prevailing yogic demographics.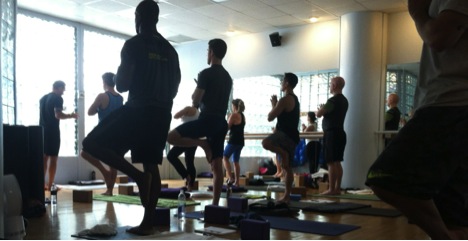 Broga's founders puncture male prejudices by providing a menu "from my vinyasa and hatha experience, based in a flow-type class," Sidoti says.
Broga adds a couple of layers to its yoga foundation. "Woven in and around and throughout is functional movement," Sidoti says.
Functional movement is based on the "seven essential movements," namely squatting, lunging, pressing, pulling, twisting, bending and walking/running.
Broga recently added HIIT, High Intensity Interval Training. Sidoti explains HIIT as "short bursts of very intense controlled low-impact anaerobic movement based on the Tabata Protocol."
Sidoti is a longtime yoga practitioner. O'Neill, the business brain behind Broga Yoga, was one of those biased males even though his mother was, and is, a 30-year yoga instructor.
Back in the day, "I didn't listen to my mom. In fact, there was no way I was going to do yoga," O'Neill recalls.
In 2007 O'Neill injured his back, winding up with six months' bedrest and debilitating sciatica.
On his first day of physical therapy, his therapist put O'Neill through a series of movements he immediately recognized as yoga poses.
O'Neill's discovery, or rediscovery, excited him. But when he began taking classes he saw that they, "rightfully were focused on serving the needs of the students, who were almost exclusively women."
Also in 2007, O'Neill and Sidoti met at a barbeque on Martha's Vineyard, Mass.
"We each had our own independent epiphany or concept of Broga," O'Neill recalls. "I was blown away."
Sidoti in 2009 began teaching Broga on Martha's Vineyard. (He still lives there, sometimes commuting, largely by ferryboat, to company headquarters in Nahant, Massachusetts.)
From the start, Sidoti "tried to think, 'What's the best possible approach here?" he recalls. " 'I want to create something accessible yet challenging, maybe even a little bit fun, erring on the side of strength rather than flexibility.' "
The result today is, "Guys are humbled in a very supportive environment. This is hard. It's meant to be hard, because we're all here for change."
~
Author: David Lewis
Editor: Alli Sarazen
Photos: Courtesy of BrogaYoga.com