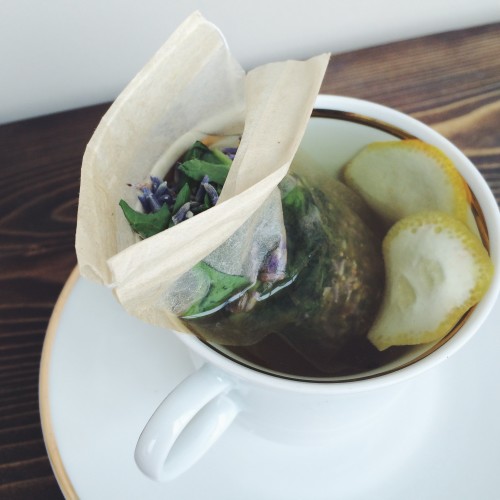 Stinging nettle is a remarkable little herb…quite temperamental (a huge jerk) to work with when fresh, but totally worth it if you have some patience.
The best parts of fresh nettles are the youngest leaves, so you'll definitely need to wear gloves when plucking them from the larger stem. Once steeped, they no longer sting and what's left in your cup is a delicious, restorative, and detoxifying tea full of vitamins, minerals, and protein.
Homemade Stinging Nettle and Lavender Loose-leaf Tea
• 1 cup boiling water
• 1/2 cup fresh (or 1 tablespoon dried) stinging nettle
• 1/2 teaspoon dried lavender buds
• 2 fresh chopped dandelion leaves
• 1 teaspoon honey
• 1 teaspoon fresh lemon juice
Combine the water, stinging nettle, lavender and chopped dandelion leaves in a small pot over high heat. Bring to a boil, reduce heat and simmer for 1-2 minutes. Pour through a strainer into a tea cup and stir in the honey and lemon juice.
Garnish with lemon zest, additional lavender buds, and dandelion leaves, as desired.
My local organic food store has fresh stinging nettle from time to time, so it hasn't been all that difficult for me to find. However, if you can't track down any store-bought fresh bunches you can go foraging (seriously; but make sure you're foraging in a spot where it's legal) or use dried stinging nettle, which is readily available at most health food stores.
I also recommend using organic, cultivated dandelion leaves as they tend to be younger and far less bitter than their wild counterparts.
Relephant: 
Author: Maegan Lukian
Editor: Renée Picard
Photos: author's own