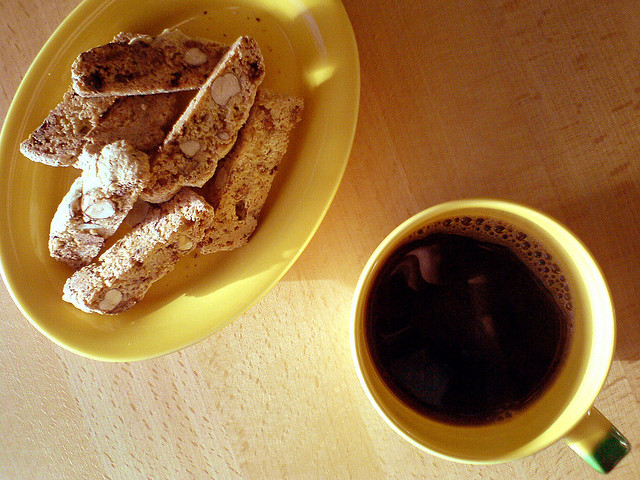 My mother was born in Italy, and when I was growing up it was a fairly regular thing to watch her make biscotti.
She would use a coffee cup to scoop flour out of the bag and dump it into a volcano shaped pile into the middle of the kitchen table. Then, using the back of the cup, she'd make a dent in the top of the "volcano" and break eggs into it.
I don't remember any of the other ingredients she used, but I do remember the flair with which she would literally pinch the salt between her fingers and, holding her hand about 12 inches above the table, more or less throw the salt onto the volcano with a flick of her wrist.
"Abasta!" she'd say.
To mix the dough, she'd place the outsides of her cupped hands around the edges of the flour volcano and carry it from there up and into its scooped out hole, being careful to break the egg yolks while, at the same time, controlling their spill.
It was a very colorful and hands on method.
Over the years, I have evolved into using and electric mix master for baking, not to mention that I am vegan/plant based in my diet and don't eat eggs.
I have, however, maintained a love affair with biscotti and make many different versions of them.
Here is one of my favorites:
It is a method that I adapted using some baking hints from the Forks Over Knives Cookbook and, while it obviously does not have the six eggs that my mother's old recipe had, this biscotti is still every bit as delicious dunked in morning coffee.
Savory Breakfast Biscotti
Preheat the oven to 350 degrees.
In a medium sized bowl, combine the following ingredients and mix them until they are smooth and creamy and entirely incorporated with each other. (I use the bowl and beater of my electric mixer. If you don't have an electric mixer, this can be done by hand. Just be sure to work the mixture until the avocado is well incorporated.)
1/3 cup unsweetened plant-based milk
1 larger rather than smaller-sized ripe avocado (halved, pitted, peeled and mashed)
1 tablespoon ground flaxseeds
1/2 cup Jaggery Powder (See notes)
2 teaspoons pure vanilla extract
1 teaspoon lemon zest
In a separate bowl, sift together the following ingredients:
1-1/2 cups spelt flour (See notes)
1/2 teaspoon baking soda
1/2 teaspoon baking powder
1/2 teaspoon salt
2 teaspoons ground cinnamon
1/2 teaspoons ground ginger
1/4 teaspoons ground allspice
1/8 teaspoons ground cloves
Once all of the above ingredients are sifted together, with the electric mixer on low, add them gradually to the avocado mixture until they are well incorporated. (This can be done by hand as well.)
Fold in 1 cup grated zucchini until it is entirely incorporated. (I do this step by hand, not wanting to "bruise" the zucchini.)
You will have a very thick dough, more like a cookie dough than a cake batter.
Shape the dough into a longish loaf (resembling a thick loaf of French bread) and place it on parchment paper on a cookie sheet.
Bake for 30-40 minutes until the edges of the loaf begins to get brown.
Remove from oven and let cool entirely.
When it has cooled, turn it slightly on the diagonal and slice it into 3/4 inch slices of biscotti. Turn the biscotti on their side and put them back on the parchment paper you originally baked the loaf on. (You will have two heel ends of the loaf, which I don't bother to re-bake. Usually I just eat them right then and there!)
Return the individual biscotti to the oven and bake another 30 minutes.
They are done when they are crispy and toasty to the touch. (Because of the amount of spices in the dough, which turns the biscotti a rich chocolate-y brown, you won't be able to tell if they are done by their color.)
"Mangia!"
Notes:
Jaggery Powder is unrefined cane sugar imported from India. I get it from the Indian Market near my house but I am sure it can be purchased on-line. While Jaggery Powder looks more or less like brown sugar, it is not as sweet as brown sugar. I like it in this recipe especially because I don't want a sugary taste to overwhelm the spices.
Also, I have found that not all spelt flours are the same. I have used the one that is found on all the shelves in practically all the grocery stores across the country that advertises itself to be organic spelt flour however, I found that spelt flour to produce a thick, dense, flavorless biscotti. I recently changed to a spelt flour that I got on-line from a small family farm in Amish Country. This spelt flour produced a deliciously fragrant, light, that carried the flavors of the spices to the lips without muddying them.
The recipe calls for one cup grated zucchini, as opposed to, for example, "one medium zucchini grated." This is an important measure. I failed to follow it the first few times and ended up with a heavy, virtually inedible damp-in-the-middle loaf. So, while I might sometimes have a bit of zucchini leftover, I now measure one cup of zucchini.
Store the biscotti in a plastic bag in the refrigerator.
Author: Carmelene Siani
Editor: Emily Bartran
Photo: cyclonebill/Flickr