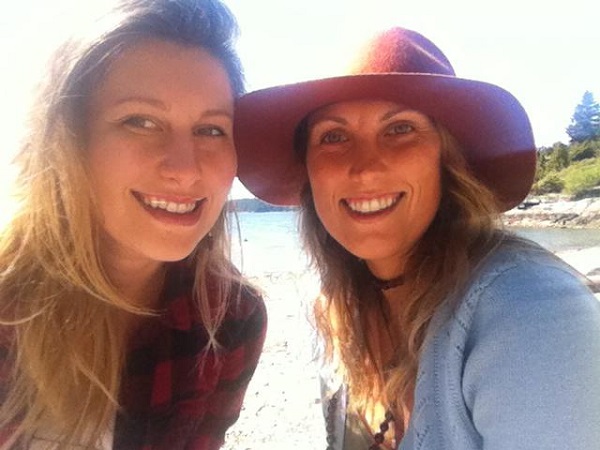 I hoped that I wouldn't get older.
You've always said that to you, I would be forever 32.
I hoped that my hands would always be strong and that my knuckles wouldn't hint at overwork and that my skin would be sleek and unspotted.
But there have been too many years of digging in the dirt and my hands bronzing in the sun for that.
I wanted my legs to always carry me with strength, so that I could continue to lead on our walks in the woods, with the two of you following me like ducklings, your happy chatter behind me, spurring me on, giving my heart flight. But a few times now, I have followed you, lost in my memories of your childhood as you walked ahead of me and called me to hurry up the hill.
I've always had issues with those damn hills.
I've been the one to hand out advice and stories, to cook something that made you smile, like apple pancakes or cabbage rolls, or chicken soup.
Now I look forward to a Mexican concoction that you eat hot and I eat mild, and that speaks of your world travels.
I'm not old yet, but I can see that no matter my determination, I'm slipping towards my wisdom years—my wrinkles give me away, as do my afternoon naps.
I can still walk a 200 mile journey through hill and dale, and keep my house to the OCD standards I'm accustomed to.
What has changed are my thoughts.
I'm beginning to dream, asleep and awake, of when I'm old and living somewhere close to you.
I'd like a little cabin on the edge of the woods, by a stream, a mountain in my view.
I'd like you to be close enough that I could take out my walking stick and make my way to your house and my grandchildren.
Will there ever be grandchildren?
I'd like to keep chickens and goats once more, to make soap and perhaps learn to spin.
Of course I'll still write, but you know that.
I'd like a strong young man (34-ish will do) to help me with the worst of the barn and garden chores.
I'll feed him lemon loaf and coffee on my front porch, and tell him jokes that you won't approve of.
Maybe Steve will join us and tell him stories of Lemuria and Atlantis—you know how he likes to do that.
When you come over I'll always have something good to feed you, and we'll eat outside in the garden under an apple tree, and drink tea from china cups.
I like the civilized life, even when in the depths of the countryside.
In the winter, I will insist on snowshoeing to your house, and you will both scold me and say I must stop my habit of walking around in blizzards.
But I love storms, and must walk in their wake.
We will meet in town (it must be a small town, darlings, I won't abide a city—a village would be best).
For coffee at the bohemian café that you and your sister own, even though I only really like the coffee I brew, and walk to the used book store and buy something that touches us, then look in the hardware store because a hardware store is the best thing there is!
In the evenings, we will play Scrabble and make a fire in the wood stove, because we all of us are addicts of flames and warmth.
You will point at my pile of books and ask exactly how many am I reading at once even though you're reading just as many.
There are not many things I am afraid of, but I am afraid of this dream not coming true.
My days are full as is my heart, and I have plenty of friends.
But I seem to have closed my eyes one day and when I opened them you had taken off to the hidden corners of the world and all of a sudden we were too far away to cook dinner together.
When we're together again, we will pick sweet peas in the early morning mist from my garden, take the hard boiled eggs from our pockets, dust the dirt from a radish or two and eat our breakfast watching the chickens peck the ground for grubs.
I'll have tea in a thermos and we'll sit on the garden bench and talk about what we'll plant that day.
A communal garden, yes, that's what I want.
We'll play with the goats and rub their floppy Nubian ears and pet the cat who I know will have found me by accident, while he was strolling through the woods looking for mice.
Steve will have you and your partners over for breakfasts and make you all laugh your pants off with his funny anecdotes, and try to fan-dangle a golf game or a tennis match with anyone who will agree.
When I am old, we won't think about how much time we have left together, we will just play some Ray LaMontagne on the stereo and write poetry while the sun sets.
And I will have the best memories of all the times we indulged ourselves in what moves us, and what kept us close in spirit even when we've been far apart.
When I'm old, I will love you just like I did in the moment you were born—fiercely.
When I'm old, we'll be together.
~
Relephant Reads:
~
Author: Monika Carless
Editor: Ashleigh Hitchcock