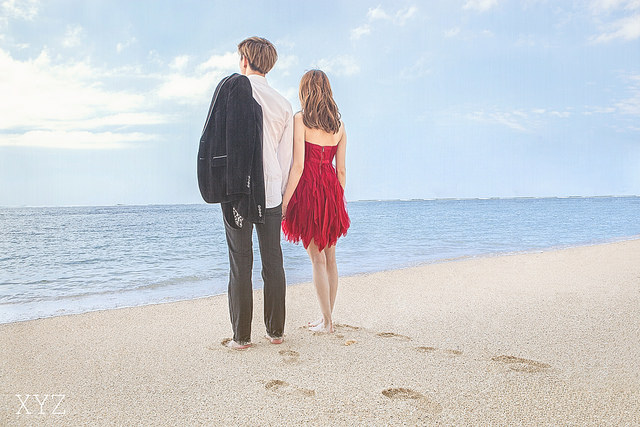 Let's close our eyes and pick a spot on the globe to travel to. Let's spin it round and round until it's just as dizzy as we are when we look into each other's eyes. I'll kiss you for luck, and then lay my soft fingertip down upon the globe until it stops, and that is where we will go.
"To move, to breathe, to fly, to float, to gain all while you give, to roam the roads of lands remote; to travel is to live." ~ Hans Christan Andersen
Will you travel with me even with no destination in mind?
We will travel somewhere that smells like aged cypress in the shade, fresh coriander and exotic sea breezes. Let's leave tomorrow at morning's first light when sleep still is a haze in your eyes and you won't be able to tell if this is a dream or not.
Let's pack one bag, because we both always prefer to be naked anyway, and if we have each other we really don't need much else.
Let's go somewhere I can lay next to you on the hot sand stretched out topless, my breasts open and exposed to the midday sunlight, my toes in the sand and my head in the clouds.
Will you travel with me so that we can feel the earth and taste the sun?
Let's go to where the color of the sea slips seamlessly into the sky, and where dreams disappear into a reality that's even sweeter. Someplace where the lights of the stars will guide us and you'll take my hand as I stumble over cobblestones drunk off the smell of the moonlight, too much Ouzo and the taste of your lips on mine. Our laughter echoing down narrow streets up secret staircases as I pause to take my shoes off. You know I prefer walking barefoot, feeling the vibrations of the earth under my feet.
We won't make it much farther into town though.  Just as I am laughing so hard I have tears in my eyes, bouncing on tip toe, carelessly flipping my hair into the breezy indigo starlight—you won't be able to take it anymore. You'll press me against the smooth white stone buildings and grab my throat with your strong hand, tilt my face up so that you can take what is yours. You'll run your hand down my chest feeling my breath quicken as you press your hand inside of me making me weak until I push off you and take off running—just so I can feel you catch me.
Will you travel with me so that we might make love to the world?
We'll sleep naked each night underneath cool white sheets, the sound of the ocean creating waves in our dreams. We will miss breakfast each morning though because we will wake each other through the night—always with the desire for one more taste.
When you do finally wake and roll over, your first sight will be me. I'll be topless in smooth black lace panties, sitting in lotus position. My chest and heart chakra pointed east as I sit in quiet meditation illuminated by the first rays of the rising sun. As I sit and breathe in and out, I'll feel you awaken, and I'll turn to meet your eyes, and as I smile my slow shy smile you'll feel yourself fall just a little bit more.
You'll think that no matter where life takes you, you'll never forget me at this moment bright with yellow sunlight, the sapphire blue water behind me shinning almost as bright as my eyes.
Will you travel with me so that each moment becomes unforgettable?
After throwing on a simple ivory dress over my tanned bare body we will take our rented Bentley Continental GTC into the mountains. We will race along the roads dotted with cobalt blue roofs, along volcanic craters with the mesmerizing Aegean beyond. We will drink too much Assyrtiko, our lips becoming sticky with the taste of figs and honey. Our bellies full from ripe olives and karpoozi, the juices sliding down my chin, making little rivers of sugar run down my breasts staining my dress.
We will swim in water as deep as my eyes and almost as blue. I'll wrap my legs around you and we will make love right there in the waves, the rush of the world all around us, but it will be all lost on us.
Will you travel with me so that our feet can write stories across beaches, mountaintops and fields?
We will laugh until our bellies hurt, smile lines only inviting more laughter. You won't mind the way that my hair becomes wavy from the salt and bleached by the sun. Our shoulders will be kissed by the heat and we will sleep the day away on a blanket by the sea. I'll write on rice paper I find at the hotel, and I'll weave stories of our days that make it seem epic in a way just living it wouldn't be able to do.
Just when you thought it couldn't get any better, I'll roll over, and tracing little circles in your palm I'll kiss sweet daydreams into your eyes, and you'll forget all about the time when you didn't believe in magic.
Will you travel with me so that we can experience the memories of a thousand nights?
And we will travel home eventually, my hand in yours, and we will begin dreaming of our next adventure, but no matter where our travels take us, in our hearts we both know the journey we live together each day is truly the greatest trip of our lifetime.
Will you travel with me?
~
Author: Kate Rose
Editor: Alli Sarazen
Photo: Mao & Qian/Flickr