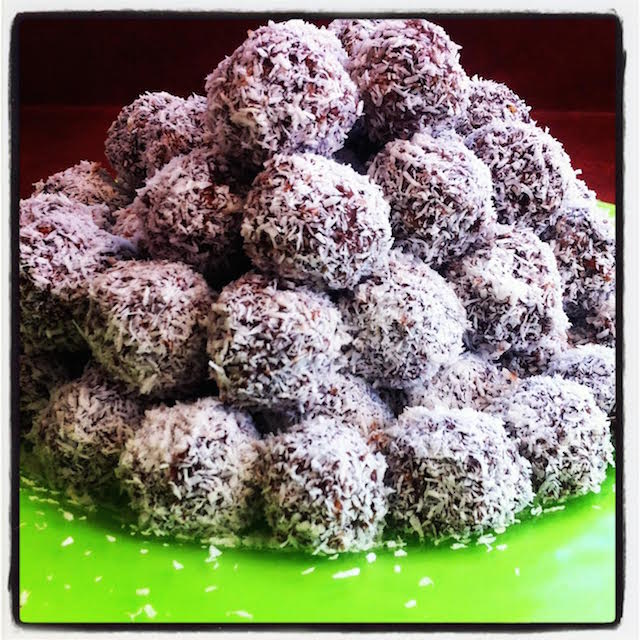 I just couldn't use the word "balls" because, well, the coconut makes them look hairy and then, well, you know where I am going with this train of thought.
But I can use chia seeds and coconut flakes because they are both affordable, bulk items containing healthy fats and fiber.
Almonds add protein along with more healthy fats and fiber.
If you are shopping at a market that does not have a bulk aisle, perhaps you should find your way to one that does as these markets tend to have healthier food options. Making your own mashed-up sphere as a kind of glorified trail mix is a bit more work and a truckload more healthy than grabbing that highly-processed, protein-isolate energy bar.
Use these delicious, portable spheres as a tea-time nibble or as a great post-workout snack.
Ingredients:
1.5 cups mejdool dates (pitted)
1/2 cup water
3 tsp unsweetened cocoa powder
Dash of cinnamon and/or cayenne
2.5 TBSP chia seeds
2 cups almonds (I recommend chopping raw almonds a bit first. Since these are not soaked, the whole, raw almonds will be hell on your processor. If you're not a raw foodie, I recommend using roasted & salted, petite almonds)
Coconut flakes (unsweetened)
In a food processor, purée pitted dates and water until a sticky paste forms.  Add cocoa powder and spices. Add chia seeds and almonds in batches to create solid dough.
Shape mixture into TBSP-sized balls and roll in coconut or more cocoa powder. Refrigerate for 30 minutes.
Makes approximately 25 spheres, where 1 sphere = 88 kcals + 6g fat + 3g protein + 2g fiber.
Relephant Read: 
Author: Tahirih Linz
Editor: Emily Bartran
Photos: Author's Own