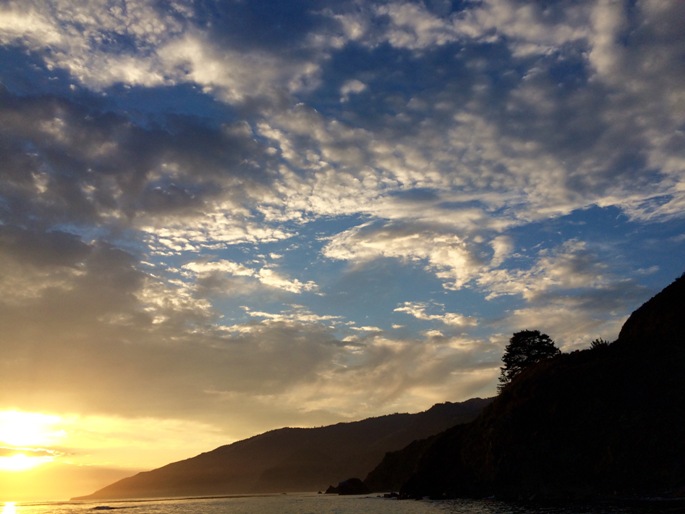 "There is so no such thing as 'away.' When we throw anything away it must go somewhere." ~ Annie Leonard
Just hear me out while I talk about litter.
I was recently in Big Sur, which is a remote section of the California coast where mountains meet beach and alchemize into the ultimate beauty. The multitude of roadside vistas that offer jaw-dropping views make Big Sur rightfully deserving of its protected American National Scenic Byway title.
On my drive back to San Francisco, after a very peaceful night camping under the full moon, l pulled off on the side of the road to take a picture of the fog blanketing the Pacific Ocean. I looked down at my feet to find a wrinkled pastry bag from Starbucks. I'm not so naive to believe that we do or will anytime soon live in a perfect world where littering is a non-issue, but I was still appalled that this is how America's beloved coffee chain has made its way into nature.
Big Sur's point of pride has long been its untouched natural beauty.
For years it has served as a refuge for creatives and healers who want to get away from human chaos and rejuvenate and regroup. I delight in nature for similar reasons–to clear my head when I sense burnout is starting to settle into me. Making Big Sur into a protected natural space has been a collective effort. In 1962, a Monterey County won a court case banning billboards and new construction from being erected adjacent to the stretch of land along Highway 1.
The rule of thumb is that if you can see it from the road, then you cannot build it.
But Mother Nature is not the gift that keeps on giving. We must do our part to keep these areas pristine.
Trash is not a new problem, but it begs to be revisited now more than ever. We cannot afford to be squandering our planet's limited resources on fixing a trash problem. We are not separate from the decisions we make. How we do anything is how we do everything, and this in turn feeds into a collective understanding of how we interact with the natural world around us. Litter does not need to be a problem and there is a simple solution to fix it.
4 Simple Ways to Delight in Nature Without Getting Trashy
1. Pack a picnic that you can eat with your hands and share family style with your friends. The less waste you bring in, the less you have to worry about carrying out.
2. Pick up a piece of trash if you see it on the ground. You don't have to grab everything, but making the effort to contribute to the beauty of whatever piece of nature you're enjoying contributes to a collective mentality that nature's beauty is precious and we are all involved in keeping it that way.
If someone else sees you picking up someone else's litter, the power of suggestion can work wonders to influence a stranger's decision to put their empty granola bar wrapper back in their pocket rather than on the ground.
3. Make a vow to volunteer on Earth Day or another day of the year that is meaningful to you to join a local effort to pick up trash at your local park or beach.
4. Go solo. Disconnect from technology and tune into yourself. Make your time out in nature into a personal offering of reflection and meditation. Without the distraction of friends, you will most certainly be more aware of the impact you leave on your environment. The more "tuned-in" you are, the more likely you are to realize that you are a part of it all.
Nature stays beautiful for others to enjoy because of your efforts to leave it how you found it and share this gift with others.
Local and national governments have done their legwork to make it so you don't have too look at roadside McMansions as you drive through state and nationally protected natural areas. But keeping this beauty untouched is part of a reminder that nature is yours as much as anyone else's and you truly have to feel that with conviction and think about how your decisions will contribute to keeping the land sacred.
Sources: 
Author: Caitlin Oriel
Editor: Renée Picard
Photo: Author's Own