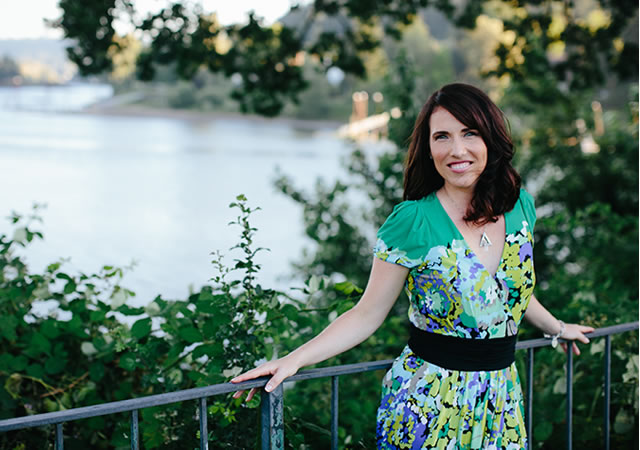 $30,000 was the magic number.
I just needed $30,000 and everything would be okay.
It was the number that would pull us straight out of poverty and into living the good life. A life I assumed would be filled with brand name jeans (it was the late-80's when brands like Guess were everything), delicious food in every cupboard (instead of bags of food left on our doorstep since we had none) and most importantly my mom wouldn't be crying and so stressed out all of the time.
I was 11, and we were hella poor.
Food stamps, WIC, handouts and lots and lots of talk about money and how we needed more of it.
One day while driving in the car my mom said, "If we could just make $30,000 a year, then everything would be okay."
In that moment I decided that I was going to find a way, somehow, to make $30,000 a year so that I never had to live like we were living.
And I did.
By age 23 I was making a little over $30k as Director of Marketing for a local chamber of commerce.
I had done it. Only I noticed something very interesting.
It didn't matter. I was still broke all of the time. I still said on the daily, "I wish I could do that, but I can't afford it."
I went on to make no more than $35k a year for the next 10 years.
What in the hell??!
Anytime I would receive a raise or more money, I would find a way to diminish that amount. I would go part-time or incur some large expense.
At one point I was hired on as a Director of PR for the largest media outlet in Portland at $70k a year with bonuses and salary. I quit after three months.
You see, I wasn't addressing the two most important aspects behind anything in life really and most certainly at the root of any and all money woes:
My belief systems about money. I was still that 11-year-old girl living broke, wishing that things could be different.
Money wasn't the problem, I was. I could "get" jobs that paid me great money, but in every instance I would find a way not to have the money, because money is only one small aspect of living a wealthy life.
I've come a long way since that time, hitting six figures in my business as a Spiritual Teacher and author. But that isn't even the best part.
The best part is: I have more time and spaciousness in my life than ever before. I feel more deeply than I've ever felt. I love more fully than I've ever loved. I taste my food (I cook after years of saying it wasn't my thing—turns out,  I love it!) fully. I commune with nature every day. I experience true joy and bliss in my heart. My external environment is for the first time in my life a true match to my internal heart & soul.
And it didn't happen from working harder. It didn't happen from doing more.
It happened because of my connection to Spirit. It happened because I was willing to surrender to my Soul's Purpose. It happened because I followed every piece of guidance and opportunity that came through from my intuition and from my connection to Spirit.
It happened because I was fully committed to changing the story of poverty consciousness that has ruled far too many for far too long.
I share all of this so that you can also be inspired to experience your own quantum leap when it comes to your wealth (or any area of your life!). True wealth is so much more than money in the bank. And yet, when you find the formula that is perfect for you, the money flows in without a care in the world. We all have the power to change and shift our old stories and childhood experiences that are holding us back.
Dear Money: It's not you, it's me.
Dear Love: It's not you, it's me.
Dear Frustrating situation/person/thing: It's not you, it's me.
When we can shift out of looking outside of ourselves and instead know and trust the divine wisdom within as well as our connection to the Universe (or God or Source or whatever you want to call it) you are truly able to live a wealthy life—in every sense.
Relephant Read:
Author: Heather Strang
Assistant Editor: Rebecca Lynch / Editor: Catherine Monkman
Photo: Author's own