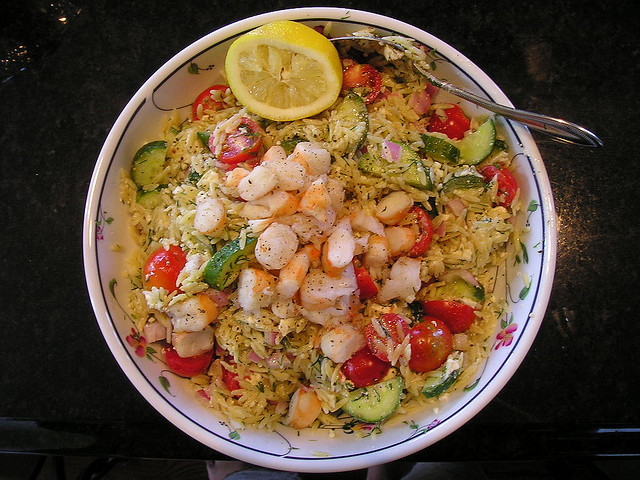 I'm very biased. I'm Greek, and I love Greek food…
…especially when I'm feeling under the weather, miss my family or just crave a good gyro (I don't eat red meat but I often long for the fragrant smell of lamb cooking over a spit in the backyard).
I live in San Antonio, the land of tacos and tamales, so to get a good Greek meal, this momma's gotta make it.
Today was one of those days; I needed my fix.
I pulled out from my memory one of my Yiayia's recipes:
Orzo with Shrimp, Spinach and Feta.
This recipe is quick and can be served in a few different ways. The classic Greek dish has the orzo separate from the shrimp, spinach and feta mixture, but I love it all mixed together.
This dish serves 8 (or 6 if you're Greek and eat a lot, like me).
Ingredients:
Generous pinch of salt
8 ounces dry orzo
3 tablespoons extra-virgin olive oil
1 pound extra-large (about 20) peeled and de-veined shrimp
2 cups frozen spinach, rinsed and dried
1 jar of organic marinara sauce (I say organic because organic tomatoes taste better…just sayin')
1 cup feta cheese
Sea salt and ground pepper to taste
Preparation:
Bring a large pot of water to a boil over medium-high heat. Add a pinch of salt and add the orzo. Cook according to the package directions. Drain and return to the pot.
In a separate pan, add three tablespoons of extra-virgin olive oil. Heat. Add shrimp and cook for about a minute until shrimp turn opaque. Add spinach and marinara sauce. Cover and cook on medium heat for about 5 minutes.
Check tenderness of shrimp. Add sea salt and pepper to taste. Mix. Remove from heat.
Spoon orzo onto a plate and then add the shrimp, spinach and marinara on top. Sprinkle with a generous amount of feta cheese.
Serve hot and enjoy!
~
Author: Ashley Martinez
Editor: Toby Israel
Photo: John Herschell/Flickr