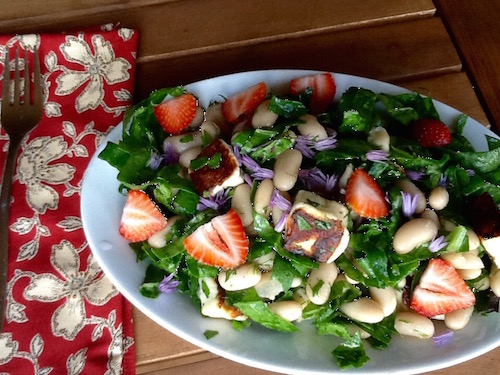 For those of us living in Northern climates, strawberry season marks the true beginning and excitement of summer.
Seeing those first ruby, glistening beauties at the farmer's market is something we wait an entire year for.
When eating with the seasons, there are few joys in life that compare to gorging on whatever is freshest at this particular time of year. Fully revelling in the moment while it lasts. For me, this means adding strawberries to just about everything I can think of these days!
Before these little treasures leave us for another year, be sure to whip up this salad—it takes about 10 minutes total and is the perfect simple, light, yet filling summertime lunch or dinner. Enjoy!
1 1/2 cups cooked white beans (either soaked overnight and cooked from dried, or one large can of organic Canellini, Navy, Great Northern, drained and rinsed)
3 cups fresh spinach, shredded with a knife; or mixed salad greens
handful fresh dill, chopped
handful fresh parsley, chopped
handful fresh basil leaves, chopped
handful fresh chives, chopped & flowers, broken apart
1/2 block halloumi cheese, cut into cubes
1/4 cup extra virgin olive oil
2 tbsp. fresh lemon juice (from about 1/2 a lemon)
sea salt and freshly ground black pepper, to taste
2 handfuls fresh strawberries, grown in your neighbourhood/area, hulled and sliced
1. Place olive oil, lemon juice, salt, pepper, and fresh herbs (aside from chive flowers) in a salad bowl and whisk with a fork to make your dressing.
2. Cook the halloumi, by either frying in a hot pan over medium-high heat, or slicing into larger pieces and grilling on a hot grill. Turn cubes or slices to brown all sides. This should take about 5 minutes total.
3. Add the drained beans to your salad bowl, along with the greens, and cooked halloumi. Toss with dressing to coat everything evenly.
4. Divide into two portions and place in your serving dishes. Scatter sliced strawberries on the top and sprinkle with separated chive flowers. Enjoy this beautiful, fresh & satisfying summertime salad!
Serves 2.
Relephant: 
Author: Julia McIntosh
Editor: Renée Picard
Photo: Author's Own