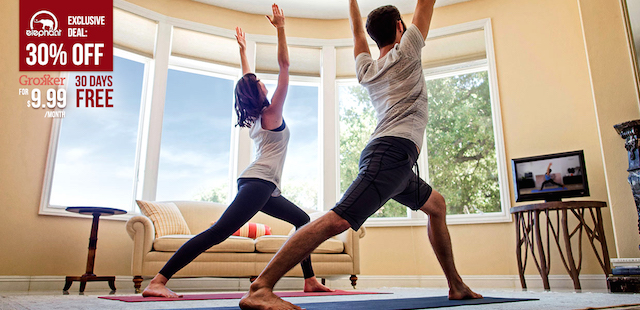 This is a post written by Grokker—an elephant partner. We're honored to work with anyone seeking to combine wellness and mindfulness to promote a healthy lifestyle. ~ Ed.
Imagine a gym for your mind and body that you can take with you in your pocket.
Elephant Journal has partnered with Grokker to offer our readers a one stop solution to keeping healthy with the highest quality expert taught video classes delivered to your desktop, mobile, tablet, or tv wherever you are, whenever you want.
Yoga classes can be very expensive and when combined with gym membership fees can add up to a significant monthly outgoing. Grokker offers unlimited access to yoga, meditation, fitness and healthy cooking videos for less than ½ the price of one studio class.
Yoga, Meditation, Fitness and Healthy Eating all in One Place
While most online streaming platforms concentrate on a single niche, Grokker has a wealth of content across all levels of difficulty for whatever you are into. So whether you are looking to workout with interval training, get into a daily yoga habit or to start meditating, keeping healthy everyday just got a whole lot easier. The website works seamlessly across all of your devices whether on desktop, mobile or tablet. Not only do Grokker have a beautiful iOs App that works just as well on iPhone as it does on iPad. Grokker is also available on your television via the web, using Apple TV or Chromecast.
Learn More About Grokker:
Rock Star Customer Service You Can Count On
We think Grokker's videos are awesome and their users can't get enough of them. In fact, with over 92% of video ratings 4 and 5 star you can't go wrong with a Grokker video. Now how is that for customer satisfaction! What's more, Grokker is quickly becoming the go to community to find answers to your health and fitness questions. Grokker's experts and enthusiasts will quickly respond to your requests and provide personalised video recommendations for your individual needs. The coolest part? Grokker's Q & A Cafe gives you almost instant response to your questions. Just getting started with yoga and fitness and don't know where to begin? Got an injury and need to modify your routine? Want to use fitness and yoga to help you overcome an illness? Grokker's Expert team will be back to you with the perfect plan of action.
Time Limited Sale – Save 30% and Get Your First 30 Days Free then only $9.99/month

It's a great time to get started with Grokker. A Grokker premium subscription normally retails for $14.99/month but Elephant Journal has worked hard to negotiate an exclusive 30% discount for its readers. You pay only $9.99/month and what's more, your first 30 Days are free and you can cancel any time. With Grokker you are getting the content of a Yoga, Meditation and Fitness Service with the added benefit of healthy cooking videos thrown in too.
It just makes it easier to get into a routine, wherever you are, on any device.
With dozens of workout programs to choose from and a Calendar for planning your workouts it is easy to fit Grokker into your busy schedule. So its perfect for when you are on the go, in a rush or even when you are on vacation and have a little more time for yourself. Select a video on your phone whilst on the go and have it cued up for after work or the next morning.
Cancel Anytime.
With Grokker it's easy to cancel and stop paying whenever you want. It is great peice of mind to know that if whatever reason you find that Grokker is not for you, you can cancel your subscription and there are absolutely no fees or cancellation charges.
So, Why Choose Grokker?
Yoga, Meditation, Fitness and Healthy Eating all in One Place
Cheaper than a Single Channel Yoga Subscription but includes all 4 Channels!
The Best Experts from all Over the World filmed in LA, San Francisco and London
A Community of Experts and Enthusiasts that will help you find the solution to your health and wellness problems
Choose the right program for you and track your progress on the way as you get into a daily routine
Still unsure? Remember, for a limited time only our friends at Grokker are offering all Elephant Journal readers a 30% discount on a monthly subscription. What's more your first 30 Days are FREE. So don't miss out on this offer just click the link below to get started.