"My religion is very simple.  My religion is kindness."
~ His Holiness the Dalai Lama

Elephant is honored to partner with Naropa University. ~ Waylon Lewis, ed.
Compassion teachings are the core teachings of all Buddhist traditions, and pervade the major religions of the world.  Naropa's educational vision focuses on the cultivation of compassion so that students may "see the world as it is and change it for the better."
But what is compassion? It is "feeling with" the suffering of others while sincerely wishing to alleviate that pain, and actively doing so, according to Thupten Jinpa, the Dalai Lama's translator. Humans' natural ability to feel compassion has been demonstrated by neuroscience and social science studies; even young toddlers naturally interrupt their play to help an adult open a drawer or pick up a clothespin. Just as quickly, however, humans can close their hearts and turn aggressively on an outsider or perceived enemy, even when that person is not a threat.
How can we widen our circle of concern so that we can more peacefully thrive as a global community? Western philosophy has emphasized the development of ethics; Buddhism has added that compassion can be cultivated through meditation practices.
Adaptations of compassion meditations are now being introduced in every sector of American life: education, business, government, healthcare, nonprofits, and communications. Current scientific studies confirm that compassion is essential for the health and happiness of both the giver and receiver of compassion. Compassionate feelings have been shown to lower blood pressure, reduce inflammation, and mitigate signs of aging. Compassionate acts increase the sense of well-being and bring the same pleasure as satisfying a personal desire.  Even better, compassion is contagious!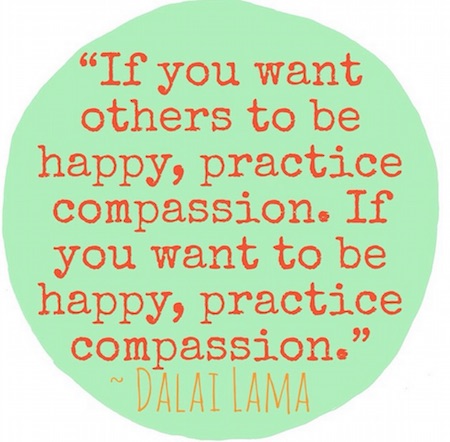 Naropa University was founded on Tibet's tradition of compassion training; a Spring 2015 survey indicated that no fewer than 90 Naropa credit courses incorporate some kind of compassion training. The Center for the Advancement of Contemplative Education (CACE) is now piloting a cameo undergraduate compassion training course dedicated to integrating traditional Buddhist practices with contemporary studies from science, social science, and cross-cultural humanities. Twenty-five students are taking pre- and post-tests to measure the impact of compassion meditation, and results will be compared to renowned national studies.
Naropa's Compassion Initiative includes the development of research on the effectiveness of the University's compassion training; compassion training courses for both our degree-seeking students and the public, including professionals from many fields; and the convening of compassion meditation teachers for an examination of best practices and outcomes in compassion training. In the Spring of 2016, University of Arizona researcher Dr. Alfred Kaszniak will be spearheading several compassion research projects on campus as part of the Initiative.
In addition, CACE is examining how to make the university a more compassionate place. Naropa is sponsoring a CACE conference March 17-20 called "Mindfulness, MOOCs, and Money: Contemplative Possibilities and Promise," exploring how a meaningful, affordable, and impactful university education be fostered for everyone. The conference, cosponsored with Association for Contemplative Mind in Higher Education and funded by the Lenz Foundation, is designed for faculty, administration, students, and alumni from all over the country. Keynote speakers include Mirabai Bush, David Korten, John Pryor, Laura Rendon, Daniel Barbezat, and Rhonda Magee.  For more information and early-bird registration.
Naropa University is delighted that His Holiness the Dalai Lama will be addressing the topic of compassion in action on his Boulder visit. The Dalai Lama will speak on "The Wisdom of Compassion: Creating Peace, Happiness, and Meaningful Lives in the 21st Century" on Tuesday afternoon, October 21, 2015, at the Coors Events Center at the University of Colorado.  We hope Naropa's offering of additional tickets will ensure that you can attend!