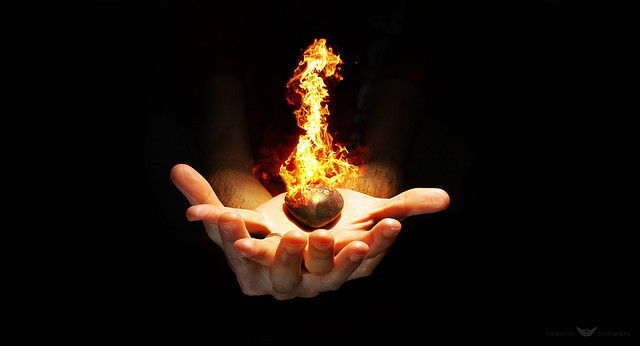 You would set me free,
Is what they all said.
They said I was blind,
That I needed to see,
So I sought you, without knowing
That you also sought me.
The illusion
Of confusion
For all of those years
You were my yearning,
So many decades
You, my only desire.
My passion
Was to find passion
And that passion
The burning essence of truth.
But when I first saw you,
So clearly I held back
Despite my chronic unrest
My arms folded across my chest
And that coy look that I give,
My curious head and mind
Tipped to one side
The way that it does
When I am interested
But not yet ready.
Though I pined for you,
Only you,
When I saw you
I chose to flee.
A part of myself ran
Like an inexperienced
Reckless lover
When I saw
That you were me.
I flirted with your flames,
Your fire with it's fury,
Scars still on my back
From being burned
When I turned
Away from you.
It wasn't your fault, you see.
You were not dangerously hot
It was I that shivered
Too cold and afraid,
Unexposed yet overexposed
All at once.
While I could only handle small doses
I also could not get enough
So, gracefully I softened
And softened some more
To your warm, golden glow
Melting,
This critical mind
This careful heart
Forgiving myself
I chose to take part
In the us that became one.
You are a cozy home to me now
And I a home to you.
You burn in these hazel eyes,
This delicate olive skin,
You wrap around me like a blanket
Yet we burn together,
You burn from within.
.
Relephant: 
Author: Katie Vessel
Editor: Yoli Ramazzina
Photos: Flickr/Christian Gonzalez