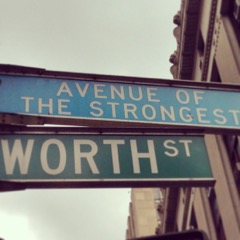 Recently I was driving from New York to Philadelphia.
This in itself was not a very clever idea. We were two Australians in a rental car driving on the wrong side of the road negotiating our way between two very big American cities with a GPS that had a slight delay in issuing directions. We got lost a couple of times—a few times because of our poor sense of direction, and a few times because our trusty but slow GPS told us to veer left or exit the freeway right at the moment we were actually passing the exit.
Still, we made it safely there for our appointment (albeit slightly late) and we made it safely back again. There were no collisions and no one was hurt, just a lot of tension and stress as we navigated our way in an unfamiliar place.
I had a moment of clarity when I realized I had entered the wrong return address into the GPS (Staten Island rather than Manhattan). My partner said something very insightful—and potentially a bit dangerous, considering my state of mind.
He said "The stress is illusory."
It certainly didn't feel illusory at the time…we were lost.
We were running late. I was hungry and tired, but after sitting with it for a few moments I realized he was right.
It doesn't matter how lost we get, so long as we are safe.
It's not like we were going to get lost on Staten Island, never to be seen or heard from again. We stopped at a mechanic shop and chatted with a guy who worked there and happened to be really very pleasant. He found my mistake and re-entered the address as the correct one.
The GPS instantly picked up our exact location and recalculated the return home safely for us.
Still smarting from a particularly nasty separation with a previous employer, someone had said to me "when one door closes, another opens. But it's hell in the hallway." I didn't find that particularly helpful —how long do you have to be in hallway hell?
At that moment, pausing on Staten Island, chatting with our friendly mechanic, waiting while our GPS was taking a few moments "recalculating route…" I thought that this was a much better metaphor: It doesn't matter how lost we actually get, we can pause and enjoy the moment, look around for the tools and support available to us, and then re-calculate route from exactly wherever we are.
The stress actually is illusory, and it comes about depending on the meaning that we place on being lost. We can think of it as failure and embarrassment or we can enjoy the stop-off along the way and find something fun and interesting to do while our internal GPS re-calculates the route to the next destination.
There is so much pressure on us right from the university starting blocks to get our career trajectory right, make all the right moves in cultivating a seamless resume, but the reality is rarely like that. A career is not a conveyor belt, perfectly timed from one station to the next. It is more like a patchwork quilt of various environments, cultures, lessons, highs and lows patterned after knowledge, experience, relationships as well as things like difficult bosses and untimely redundancies.
But when stitched together and viewed as a whole, this is what gives the experience its richness and it's depth.
It's the failures as much as the successes that gives a true leader their wisdom, calm under pressure, insight and empathy.
Upon leaving New York we saw an advertisement for Staten Island, pointing out that it's a stop-off tourists often miss while visiting New York.
We had a giggle to ourselves. We didn't miss it.
We took a moment on our accidental detour to have a look around and visit our friendly mechanic. Just another experience we never would have had otherwise.
Relephant: 
Author: Kate Nicholl

Apprentice Editor: Jenny Wise / Editor: Renée Picard
Image: Courtesy of Author