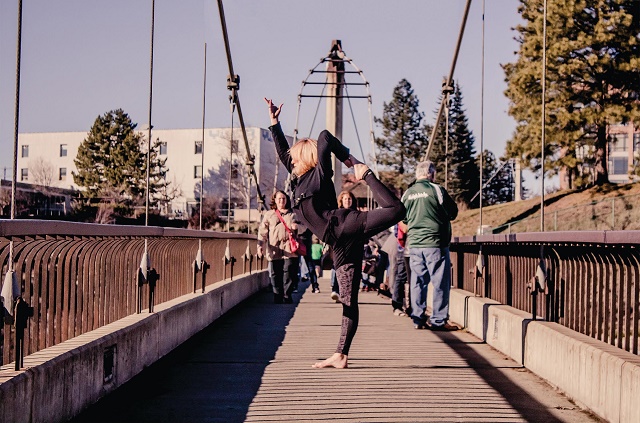 I'm a female combat veteran.
Like many female vets, I got a double whammy of both combat and military sexual trauma.
There's an acronym for it now: MST. Thanks, Obama.
My experiences changed something so fundamentally deep in my psyche that I could feel the shifts as they happened.
"We are not safe. The world is evil. Human beings destroy each other."
The biggest hurdle that I faced, and that I can see other trauma survivors facing, is the sense of injustice at the core of struggling with symptoms.
No one asks to experience trauma. The idea that we now have to work to heal from something that wasn't our fault in the first place can be completely disempowering.
"Hey world; hit me with your best shot, and when you're done, don't worry; I'll clean up the mess."
Experiencing trauma can feel as if control is being taken from you, as if you're truly powerless in the face of the chaotic forces that govern the world.
Making the decision to heal, to shift your perspective on suffering, to move forward instead of simply continuing to survive, is not ignoring what you've been through, nor is it shouldering an unfair burden of pain that's been thrust upon you. It is simply re-taking your power over your own experience.
Trauma can lead us to see the world as black and white, good or evil, all or nothing, and this dichotomous view is the bedrock of our perceptions, and thus our symptoms. There are things that we won't ever have control over, but this doesn't mean we control nothing.
We have, at the very least, power over our own perspective, our own experience, and our own lives.
If you've ever experienced the journey that is post-traumatic stress disorder, you may have already been inundated with thoughts, opinions, and even scientific research on the many methods which are available to you to help manage symptoms. I have too.
Traditional treatments for PTSD usually combine medication and psychotherapy, which everyone responds to differently.
When I began practicing yoga again after leaving the military, I noticed that a regular, dedicated practice had more of a positive impact on me than the traditional methods most health care facilities offer to Veterans.
Here are my observations on the two of the most prominent symptoms we trauma survivors share and how yoga has helped me with them:
1. Hyper-arousal:
Being in a constant state of fight or flight or being triggered into this state by external stimuli creates a high concentration of certain hormones in the body, namely cortisol and adrenaline.  Many trauma survivors suffer from insomnia, irritability, anger management issues, impulsiveness, difficulty concentrating and increased aggression—all side effects of a mind and body swimming in un-metabolized stress hormones. [1]
With PTSD especially, the brain has been hardwired with an extra sensitive stress response, meaning that because of our experiences, we have a lower threshold for what sets us off than does the average bear.
How yoga helps:
From a simple exercise perspective, moving our bodies and increasing our heart rates even slightly aids in metabolizing the flood of stress hormones from our systems and returning the body to hormonal equilibrium.
Evolutionarily, our stress response developed as a survival method. We get a massive boost of adrenaline to give us the energy needed to flee from the woolly mammoth about to step on our face.
The idea is that in the fleeing or fighting part of the scenario, our body, through it's intense physical action, is also metabolizing the release of hormones, using them for their intended purpose and thus eventually processing them out of the system. But most of us don't run a marathon after we experience sudden or prolonged stress.
The physical movement and breath work in a dedicated, regular yoga practice encourages this break down of released chemicals to happen gently and naturally. Yoga can also be modified even if we have injuries or disabilities that prevent us from participating in other workouts we used to enjoy.
A dedicated yoga practice can also increase serotonin production, the hormone responsible for feelings of well-being and happiness. A majority of the body's serotonin (90%) is produced in our gastrointestinal tract. Most yoga sequences include twisting, bending, and stretching poses that are designed to massage and encourage healthy GI tract behaviors, one of which is regular serotonin production.
A more reliable and more regular serotonin production may help us relax enough to bring us down from a hyper-aroused state.
2. Disassociation
Experiencing trauma has emotional and psychological effects as well as physical, yet during a traumatic experience, these emotions are often suppressed in favor of survival instinct and base function. This is also an evolved trait. When being chased by a animal, taking a moment to pause and introspect on our emotional state could cost us our lives.
We're designed to, first and foremost, survive life-threatening encounters, and the emotional wounding that occurs during trauma is then meant to be processed and managed once we're safe again.
However, in prolonged stressful situations, or life-threatening experiences that dehumanize a person, a survivor can become re-triggered constantly even after the experience is over, and the feeling of being safe again never seems to arrive. [2]
In an analogy to the physical body, when an injury is so severe as to need more than just immediate first aid, medics use a tourniquet to stop blood flow to the injury. This is not healing, this is a temporary solution that may save an injured person's life, but at great risk to losing the limb.
Dissociation is very much like this—a temporary disconnection from emotional wounds in an effort to keep us going until we're ready to process what's happened to us.
The issue, then, is this: if we're constantly triggered and are unable to ever deal with these emotional wounds, we eventually fill up with emotional tourniquets.
For many survivors, once they get to a point where they eventually can stop and deal with what's happened to them, they're faced with a myriad of emotional wounds that may be overwhelming. With little to no coping mechanisms in place, many survivors simply remain disconnected, coping in various ways that encourage avoiding the issues and remaining disconnected; drugs, alcohol or overwork.
How yoga helps:
Some of the therapies out there that are meant to help with the dissociative aspects of PTSD involve writing or talking about our experiences in an attempt to re-experience the trauma, bringing the original emotional response back to the surface in a controlled environment.
This allows the survivor to ride out the feelings that re-surface. These feelings, fully expressed and explored, eventually dissipate, leading to a catharsis in the survivor.
Yoga essentially does this as well, in a manner that can be empowering for those struggling with their sense of personal power and control.
Yoga begins by inviting us to explore an awareness of our bodies without judgment, and asking questions as we move through a sequence of poses.
What does the mat feel like when my toes grip into it? How does my breath feel in my nostrils as I inhale?
A mindful approach to experiencing a thing without deciding if it's good or bad (or whether or not we're good or bad at it) is the beginning of a shift in perspective about our own experience of the world at large.
We're not being told how to feel; we're simply being invited to feel again, in a way that puts us in control of the experience.
What happens, then, as practice becomes more regular?
Parts of the body are physiologically linked to our stress response, and thus stimulating, stretching, and opening those parts of the body may trigger memories or feelings of the trauma experienced while we're in the middle of a yoga class.
The difference here is that we're controlling the process, and having practiced a non-judgmental awareness of our own bodies, we may be better able to experience an emotion or memory of our trauma with similar non-judgmental and open awareness.
The memories and emotions are not taken away from us once this happens, but the re-triggering of our stress response at their resurgence is blunted and eventually dissipates.
I've heard many therapists liken surviving trauma to losing a parent or loved one.
It changes us. We don't ever get over it, but we learn to live our lives and move on with the experience becoming a part of us. And this is how it is with all experiences. These are the things that carve out who we are, and denying them is to deny what makes us human and alive.
For me, a regular yoga practice became much like a journey into my own self.
Stepping onto the mat became an invitation to explore things that I had once believed were beyond my ability to manage. What seemed overwhelming once is now a part of me that I know intimately, and revisit regularly.
Doing the work that leads to the healing I've experienced and will hopefully continue to experience feels less like an injustice now, and more like a deep and satisfying privilege that I may never have taken part in had I not experienced what I did.
The suffering can be deep, but so can the healing, and subsequent joy of coming out on the other side.
~
Sources:
2. Help Guide
~
Relephant read:
~
Author: Katie Leute
Editor: Khara-Jade Warren
Image: author's own
~