Violence against women is unquestionably a worldwide issue.
Rape, abuse, assault and domestic violence are not isolated to particular countries or cultures.
Countless women fall victim to these acts and have to live with the aftermath of having experienced such violations—no matter the country they call home. Those who survive, anyway.
Domestic violence is a hot agenda topic in Australia right now as case after case of mishandled domestic violence incidents, initially reported to police and not acted on, end in murder.
In a culture where violence is not the norm, the collective voice of the Australian people is rising up to demand immediate action.
The Australian government, with new Prime Minister, Malcolm Turnbull at the helm, seems to be stepping up to the plate.
Late last week, the Australian government, under the new leadership of Turnbull, unveiled a 100 million dollar package to protect the victims of family and domestic violence.
This week, they have revoked the visa of extremist anti-abortion activist, Troy Newman and have given rapper Chris Brown 28 days to explain why he should be allowed entry on the grounds of his 2009 conviction for spousal abuse of former partner Rihanna. Last year, Julien Blanc, a world renowned "pick-up artist" who teaches men how to pick up women using manipulative tactics and physical influence, had his visa revoked halfway through a tour after public furore regarding his methods.
While these isolated cases of visa denial may seem insignificant, any action that raises awareness of the prevalence of violence and disrespectful treatment of women should be commended.
It is estimated that one in three women will experience domestic violence in their lifetime in Australia, with 63 women murdered by a current or former partner so far this year.
This may seem like an insignificant figure compared to the murder of three women per day in the United States and the insurmountable figure of violent acts against women in India, but Australia's significantly lower population figure must be taken into consideration—not to mention the vastly more restrictive gun laws.
While there is still much work to be done, it is promising to see the government of Australia listening to its people and fast-tracking policy that will protect the countless women who find themselves in these disturbing situations in their own homes.
If only more governments would do the same.
I recognise that it's in this government's best interest to stand up on this issue right now, since its political clout has weakened due to recent events, and I am all for each positive step in the direction where women around the globe are treated with respect, dignity and equality.
Chris Brown, in response to the demand for reasons why he should be allowed entry into Australia, has come back with some interesting points, which he posted on Twitter: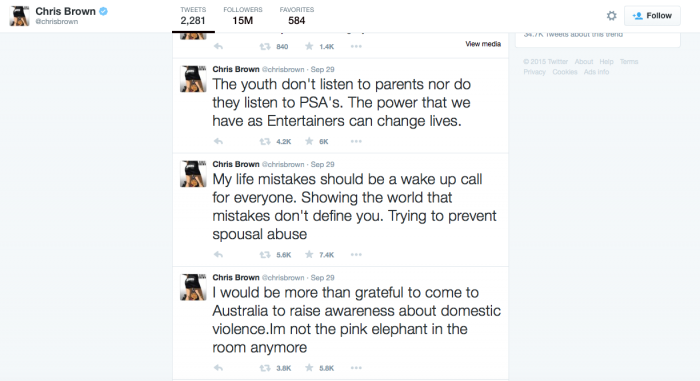 While I'm skeptical that this wasn't crafted by some really clever public relations person, it is definitely a valid perspective.
We need to do what we can to break the cycle of abuse, and perhaps entertainers—even (or particularly) those with shady histories—can be the spokespeople required to shift the perception of the upcoming generation.
That said, it's a grassroots issue that starts in the home.
While it is by no means true that every child with a history of family abuse becomes an abuser or continues to be abused in adulthood, there is evidence suggesting that this kind of experience through childhood leads to the perpetuation of the same cycle into adult years.
"Give me a child until he is seven, and I will show you the man." ~ Aristotle. 
Children learn from their environment. They learn how to react; they learn how to respond. They learn how to treat the people in their lives and how other people will treat them.
We, as people of a globalised world—as individuals living in our own lives—are the ones who are responsible for changing this culture. We are the ones who need to show up in our lives and clearly define the boundaries around acceptable behaviour and work through our own childhood sh*t that might be cycling into our adult lives unconsciously.
We need to move away from treating each other differently because of gender, race, ethnicity or hair colour.
Because underneath it all, we are all simply human.
And sometimes it's goddamn hard enough just being one of those.
~
Relephant: 
~
Author: Sarah Kolkka
Editor: Toby Israel
Images: Jeffrey/Flickr and ChrisBrown/Twitter
Sources: SBS News, ABC News, Huffington Post, Australian Institute of Family Studies, Business Insider
~