Nothing speaks to me like a sense of humor, and the ability to laugh at ourselves.
And a politician with a sense of humor?
Brilliant.
I'm not a fan of smear campaigns against opposing candidates or the dirty dealings that are involved with politics today. Nor am I an extreme right-wing or left-wing proponent of either party. I am, however, enjoying watching the heat rise for Republicans in the wake of House Speaker Boehner resigning, and then the front-runner for his replacement, McCarthy, stepping out as well.
I can't imagine why no one would want the job. 
And the minority party Democrats are clearly enjoying watching the Republicans squirm to find a Speaker.
And while I disagree with both parties alike on some issues, I think this is hilarious.
California Representative Mark Takano went the extra mile to dig at the Republicans in their dark days with his fake Craigslist ad: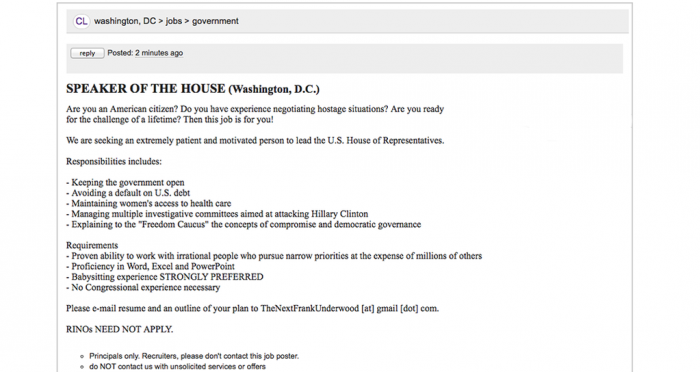 Responsibilities include: Keeping the government open.
Genius! Regardless of which way you vote, we all know Speaker Boehner was famous for not playing nice with his cohorts across the aisle—I mean, how many government shutdowns have we seen since the right has had the House?
While the ad wasn't posted on Craigslist, it was on Twitter, and quickly went viral.
I think we need more guys like this in office.
Just saying.
If you're upset by this, I'm sorry—I'm still rolling around laughing at this guy's brilliance.
I know who I'm following on Twitter!
Editor: Emily Bartran
Author: Lindsay Carricarte
Image: Flickr/Democracy Chronicles