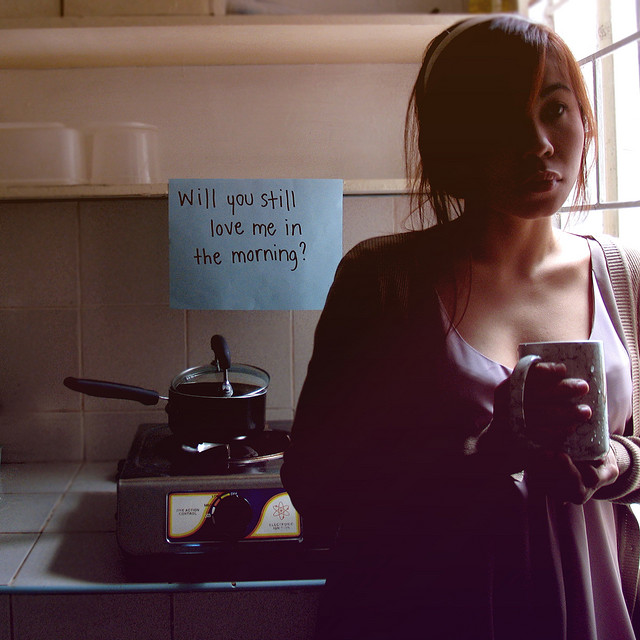 "Actions prove who someone is; words prove just who they want to be." ~ Unknown
I'm sorry but this time, there is no halfway.
I do not usually give ultimatums, and although I suppose this could be seen that way, it's not.
This is about knowing that I can't be satisfied by maybes any longer—and while I want you, if I can't have you—then I need to be able to start moving on.
While you've been out there living your life and learning lessons, I have too.
And I have learned that while I love my life and I am happy with it as is—I want more.
I want more from life than to come home by myself and I frankly don't want to put myself to bed alone each evening anymore—I want someone here to keep me warm, on the coldest nights of the year.
I want morning mugs steaming of sweet Arabic coffee, I want feet in thick socks cozied up against mine and I want a hand to hold at the end of the day.
I want a man who has my back, no matter what.
It is my own fault for being satisfied with so little for so long, hanging onto all of the sweet "for now's" and "at this points" that I eagerly devoured from your delicious lips.
But the time for that has passed—now, I know that I simply want it all.
So, I'm asking you to either be all in—or all out.
That's not to say that I know all the answers, or what the future will hold—but it means making the choice to actually see what it is between us, keeping both of us hooked on a storyline, we couldn't ever quite give up.
It's making the choice to bring us into the light—no matter how much we both love the shadows.
Because baby, you know what you do to me.
You know that you set me on fire and that when I close my eyes, it is yours I want staring at me.
When it's late at night and I am in bed alone—you know that it is you that I think of while touching myself, wishing your hands were on my body instead of mine.
But, besides all that—you know that I care about you.
That you have become my safe place, in a life where I wasn't sure I would ever be offered that again.
You've helped awaken me to my truest-self—and it would be shame if you didn't get to enjoy the woman who I now am.
I don't have all the answers and I can't draw you a map of precisely how it will all work out.
But, I can tell you honestly that I want to try.
I know that I may be a risk that you just are unwilling to take, and I don't blame you for that.
I have no desire to force you, but I can't stand hoping for one more minute that the man I choose will one day choose me.
I've survived on nothing but hope for years—and now I'm starved for action—and follow through.
I know you sometimes buckle under pressure—and no man likes "now or never" scenerios— but I need you to decide—be all in, or all out.
Because this time there is no longer a half way, because if you are unwilling or unable to step up and be the man who I know you are—the man who I need—then I need you to step aside, so I can see the man behind you.
I do believe in soulmates, but I if you don't choose me, I will not be alone and miserable the rest of my life.
While love may never be the same as it is with you, it could still be pretty damn incredible.
Because I will not let myself miss out on the amazingness of sharing my life with a man who knows what he possesses, when he is looking into my eyes. I refuse to miss out on trips around this beautiful planet and nights of passion, keeping us up all night long.
And though I am hoping you want to be my leading man, I know there are others lining up to be cast in that role, if you decide it's not for you.
That doesn't mean you're replaceable, because you're not.
But it does mean that if you are unwilling to be the one who puts this smile on my face, then I owe it to myself to find someone who will.
Because this time the door isn't staying open—there is no coming and going as you please and soliciting in the doorway, like someone who actually wants to come in.
This time, you have to choose to come in and close that door behind you, or to leave and walk through it one final time without looking back, without regret.
Because this time baby, I am sorry, but there is no halfway.
~
Relephant:
I am Tired of Men wanting to F*ck me, but not Love Me. {Adult}
Author: Kate Rose
Editor: Ashleigh Hitchcock
Photo: flickr/Helga Weber