~
~
Like many kids growing up in the 1990s, my stepfather subscribed to Playboy.
Unlike many, however, there was never any attempt by my mother or stepfather to hide them away in closets or places where I was unlikely to find them. Instead, they were often on the coffee table alongside my mother's copies of Good Housekeeping and Cosmo.
As I result, I found myself thumbing through issues of Playboy during my teen years and reading the fiction, interviews and hard news articles that were squeezed in between the nude pictorials.
Some articles that still stand out in my mind are an interview with then-surgeon general, Jocelyn Elders, and a hilarious take on Shakespeare by author Shel Silverstein—best known for his children's literature. (What a shock to learn that Mr. Silverstein had a very dirty, albeit hilarious, sense of humor.) Therefore, I became the only person I knew who truly did read Playboy for the articles.
Fast forward 20 years, and now it seems everyone who picks up a copy of Playboy will be in the same boat that I was as a teenager.
Instead, they will revamp the magazine and focus mainly on investigative journalism and fiction. They still plan on running tantalizing photos of women, but they will be of the "PG-13" variety.
This change is newsworthy for a number of reasons, not the least of which, how times have changed in a relatively  short amount of time.
As I was recently discussing with a friend of mine who is five years older than me—it used to be so different back in the day. A young boy getting his hands on a copy of Playboy, and looking at it under the covers or with a group of his friends, was practically a rite of passage in most suburban neighborhoods.
Typically, Playboy—and it's competitors, like Penthouse—offered a certain selection of woman who were considered "ideal." They were usually blonde, thin, big-breasted and always perfectly groomed. Even though it was fantasy, it often impacted how many young men and women viewed the female ideal.
Speaking from my own experience, seeing the pictures of the women who appeared in Playboy certainly didn't help my own, already poor, body image. While I cannot, and will not, blame the magazine for those issues—it certainly was a contributing factor, along with the other images of women in fashion magazines, music videos and TV shows.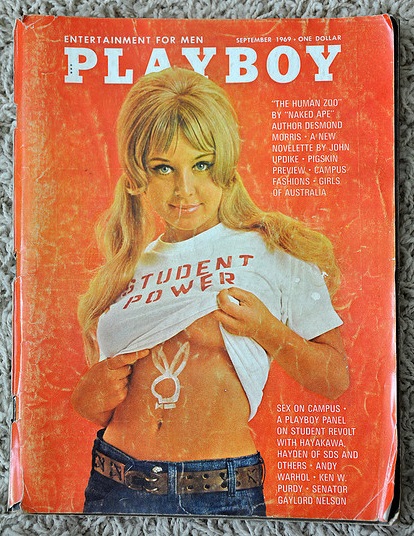 Likewise, even though I grew up in a military town, where no "Playmates" that I knew of ever came from, the boys I knew expected (or at least wanted) their would-be girlfriends to live up to that ideal.
However, by the time I was in college, access to the internet was becoming ubiquitous, and not only were the new batch of teenagers able to obtain free images (that were far more graphic than anything Playboy ever offered), but even more notable—many of these images were "warts and all," so to speak. These images included excess body fat, cellulite and less-than-perfect grooming—all on display.
As one millennial friend put it, "Playboy became the magazine people associated with Grandpa."
And indeed, those pictures seemed more and more like a relic from a bygone era. Indeed, even as other girly magazines followed suit, and tried to compete with the internet, Playboy held on to it's classic look.
In fact, as former Playmate—and former girlfriend of Playboy founder Hugh Hefner—Holly Madison revealed in her recent memoir, Playboy continued to shoot it's magazine pictorials in film, even though digital was far more cost-effective and practical, because Hefner loved the looked that film provided.
Playboy's current chief executive, Scott Flanders, alluded to these changes in The New York Times when the announcement was made:
"That battle [for sexual freedom] has been fought and won. You're now one click away from every sex act imaginable for free. And so it's just passé at this juncture."
It also shatters the myth that sex always sells. Indeed, as NPR reports, when the magazine's website stopped running nude images of women back in August, web traffic actually increased from 4 million to 16 million users a month.
Therefore, this new Playboy could be a good thing, both for the magazine, as well as other publications looking to attract viewers.
As someone who has never actually purchased an issue of Playboy—or even thumbed through one, since I last visited my parents—this new edition could convince me to do both, especially if they really do beef up the fiction and investigative reporting.
It may turn out that getting rid of naked ladies is the best move Playboy ever made.
.
Relephant:
.
Author: Kimberly Lo
Editor: Yoli Ramazzina
Photo: Flickr/Josh McGinn; Flickr/David Trawin