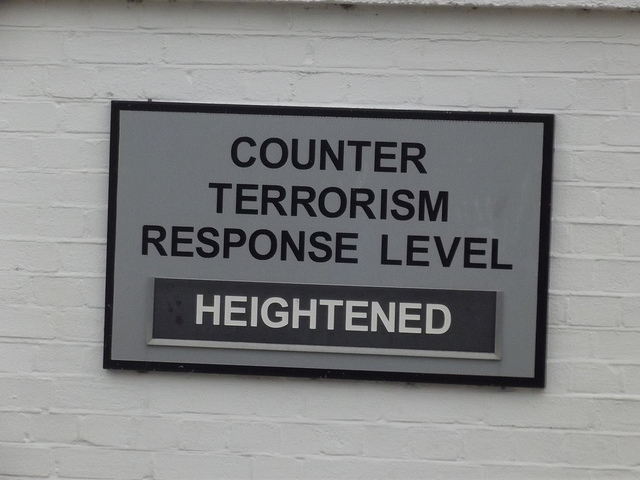 Mohammed Emwazi, a.k.a. "Jihadi John", the sadistic masked front man of ISIS and a British citizen, may have been killed in an airstrike early Friday morning in Syria.
The strike took place late Thursday evening and soon after came reports from activists in Raqqa, Syria that "four ISIS soldiers, including a leader with British nationality, were killed by an airstrike," the Syrian Observatory for Human Rights reported.
Carried out in coalition with the British, the strike targeted Emwazi who has been high on the list of priorities and most wanted in the war against the Islamic State (ISIS/IS).
According to The Pentagon, Emwazi has been the dealer of death in many violent, online execution videos and is blamed for participating in the deaths of American journalists Steven Sotloff and James Foley, aid worker Abdul-Rahman Kassig, British aid workers David Haines and Alan Henning, Japanese journalist Kenji Goto and many other hostages.
Though official confirmation of the kill has not come through yet, U.S. officials have said they are confident the drone strike, which targeted a vehicle Emwazi was traveling in, was successful. Drone strikes have been the Pentagon's go-to choice of warfare in the Middle East, especially against ISIS. With the release of secret drone war documents many people have begun questioning the morality, or lack thereof, behind this method.
So how did Emwazi go from growing up in West London, speaking English with a British accent and graduating college with a degree in programming to becoming the face of ISIS?
Although clearly demonstrated by the brutality Emwazi displayed towards his victims, he was well on his way before he was a documented jihadist.
According to friends interviewed by The Washington Post, Emwazi was not an extremist prior to traveling to Tanzania in 2009 for a safari. Later that year, he was detained and imprisoned by British counterterrorism officials.
It seems that after this occurrence, he carried out his full flight into extremist living.
Emwazi had a marriage and a life waiting for him on return to Britain, yet instead he chose to go down the road of extremist, sadistic, terror beheadings. It's unfortunate that many European countries, especially Britain, are seeing the trend of young people leaving the country to join terror cells.
What is it that fuels this pattern? I find this transition into a life of extreme terrorism to be a sad fact.
Though this will upset many people, I empathize with the struggle that drives once driven young people into the mindset that terror, violence and war are their only choice in life. Having been at a point in my life where I felt that the only way to exist was on the outskirts of society, shunning all moral, ethical and socialized ways of living as a drug addict, part of me understands. I don't understand the extremism, and the violence, and the disregard for human life, but I do understand the pain that turns humans into monsters.
I understand the hopelessness that pulls once promising minds away from life as they know it. It's a terrible place to be.
While it takes a unique level of personal pain to be driven to this level of sadistic extremism, my soul sheds a tear for a world that creates the monsters we see. The chaos and pain in the world today is a result of our actions. Humanity has created this, and my heart breaks for us all.
Most of all it breaks for the families of victims left behind to go on living after losing their loved ones.
As soon as reports came in, British Prime Minister David Cameron notified families of those executed by Emwazi, and the Pentagon announced reports of the strike. The Prime Minister also stated, though Emwazi was a British citizen, "the strikes were the right thing to do and an act of self defense."
Yet many criticized the Prime Minister's words saying they would've rather seen Emwazi taken alive and put to trial.
Diane Foley, the mother of murdered American journalist James Foley, found no comfort in Jihadi John's death. "It saddens me that here in America we are celebrating the killing of a deranged, pathetic young man," she told ABC News.
Such are the times we live in.
~
Relephant read:
~
Author: Lindsay Carricarte
Editor: Nicole Cameron and Caitlin Oriel
Image: Elliott Brown/Flickr