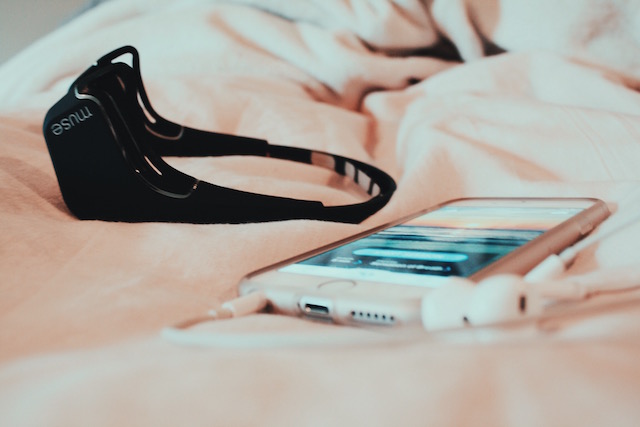 Note: elephantjournal.com received these review items for free, in return for a guarantee that we would review said offering. That said, we say what we want—good and bad, happy and sad.
Skepticism, intrigue, fascination, love—so went the phases of my relationship with Muse.
Muse is a meditation tool in the form of a headband—it senses your brain activity and uses that information to give you feedback on your meditation and help better your practice.
Insert initial skepticism here.
Before trying it out I spoke to Ariel Garten, one of the founders of Muse, to make sure I knew what I was getting myself into here and could get the most of out of this experience.
Turns out, my skepticism made me the perfect candidate for Muse—it's designed to help overcome the initial awkwardness (and perhaps aversion) to consistent meditation.
This is right around the time that intrigue set in.
I knew that Muse connected via Bluetooth to an app on my phone, and that while I wore the headband it would measure my brain activity and give me real-time feedback. What I didn't know was what that real-time feedback looked like, or how I could possibly receive it and then adjust my practice accordingly without disrupting the meditation. That's because I missed the absolute coolest part about the device:
While meditating with Muse, you also wear headphones, and as Muse is reading your brain waves, you hear the world around you—from birds chirping and leaves fluttering to a thundering, storming ocean, depending on how calm or active your mind is.
Fascination, welcome to the party.
I tried Muse for two weeks, and, you guessed it, along came love. Here's why:
> The responsive weather sounds are amazing for two reasons: First, they are an accurate reprentation of what our thoughts can feel like, so they don't feel particularly shocking or upsetting—even when we're hearing a violent storm come through our earbuds, it's almost calming, like someone (or something, in this case) finally understands what it feels like to be swept up in these thoughts, and is attaching them to something tangible and thus surmountable.

Second, they aren't at all distracting. Even guided medtations from certified instructors can feel distracting—a moment of peace interrupted by a suggested focus point or attention to breath. These noises just feel natural, and put your experience in your control.

> Muse brought out the inner meditative competitor I never knew I had: Because its interface is on an app, Muse utlizes our love of all things digital to motivate us to meditate. You can set daily reminders that pop up on your phone, you get a weekly report via email tracking your progress (or lack thereof) from the week before, and each session concludes with a screen of results—we see our percentage of calm, how many points we earned based on how many birds (a sign of a calm mind) chirped their way into headphones, our longest consecutive streak of meditating, and what level we are up to based on our progress.

Is meditating a competition? Of course not. But if there's one way to get me to do something, it's to challenge whether or not I can.
So, after two weeks, what happened?
Well, I'm not levitating off of any floors, and I still don't meditate every day. But, I do meditate at least 3 times a week, and because I like to Muse at night, I can no longer bring myself to binge on Netflix reruns before bed.
Sometimes, right in the middle of my work day, I take a 5 minute Muse break. When I'm stressed out, all I want to do is hear those crazy crashing waves in my headphones and breathe my way to fluttering leaves in a gentle breeze (that is not a flowery, exaggerated interpretation—it's quite literal, and just as transformative as it sounds).
My skepticism has also nearly vanished. I'm one of those people who needs a little science mixed in with my spirituality, and Muse gave me that—grounded, scientific, relatable proof that meditation is, in fact, everything it's cracked up to be.
What exactly is this magical headband, and where is it made?
This is the single downfall of Muse: It's made in China, and it's made of various plastics (along with silver for the sensors, steel and copper). But, a little sweetness:
"If the headband is collected separately, the equipment can be recycled and up to 67% of the equipment can be re-used as new material (or alternatively up to 90% of the equipment can be recovered), saving the use of virgin raw materials and energy of producing these." ~ Martin Cieszewski
My recommendation for overcoming this? Once you're hooked on meditation and have gleaned as many of the amazing benefits Muse has to offer as you can, pass it on. Spread the meditation love, without buying new each time.
Muse might look like a super nerdy, techy, alien-brain-wave-reading headband, but it's without question the coolest piece of technology I own, one of the most innovative ways I've seen to reach outside the spiritual choir, and makes meditation accessible and desirable for even the biggest skeptic.
Photo: Author's Own