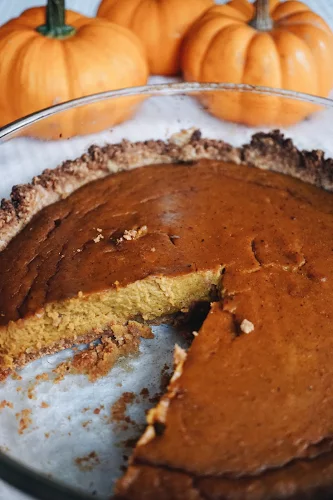 Even though I didn't grow up celebrating Thanksgiving, the cozy hominess of this holiday holds a special place in my heart.
Perhaps I adore it because it encapsulates the essence of fall: the contrasts of the cold weather and the warming spices, and the idea of going inside (physically and metaphorically) and as a result finding more connection (within ourselves and in our communities).
To me, no Thanksgiving festivity is complete without two things: a proper cranberry sauce (with one secret ingredient—orange zest), and a proper pumpkin pie.
In this case, the flavor and hearty texture of the pie is more than proper—it's phenomenal.
The ingredients here have been carefully thought through to be whole-food, gluten-free, dairy-free, refined sugar-free and non-GMO. While any gluten-free flour will work, I experimented with sorghum—a naturally gluten-free grain with neutral flavor ideal for baking. It's also a nutritional powerhouse high in protein, iron, and dietary fiber. Read more about sorghum here.
~
Ingredients:
Crust:
1 cup gluten-free flour (I used sorghum flour)
1/2 cup melted coconut oil
1 tablespoon honey (or brown rice syrup)
1 teaspoon cinnamon
1 egg
Filling:
1 can  (15oz) pumpkin (or 2 cups baked and blended pumpkin)
3 eggs
1/2 tablespoon maca
1/3 cup honey (or brown rice syrup)
1 teaspoon cinnamon & pumpkin pie spice
~
Directions:
1. Warm the oven to 350 F.
2. Mix all crust ingredients well, then press the dough into a 13-inch baking pan and bake for 15 minutes or until the crust starts to brown.
3. In the meantime, mix all the filling ingredients.
4. Pour the filling into the crust and bake for about an hour, or until the filling is solid.
5. Cool and refrigerate. Serve with love in your heart bowl!
~
Relephant:
~ 
Author: Ksenia Avdulova
Editor: Caitlin Oriel
Image: Author's own