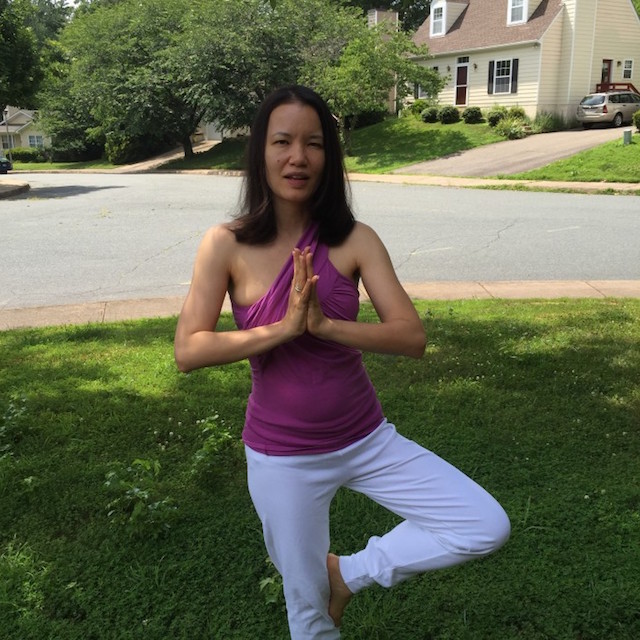 Note: elephantjournal.com received these review items for free, in return for a guarantee that we would review said offering. That said, we say what we want—good and bad, happy and sad.
Despite spending a ton of time in fitness clothes and worrying about how they performed, it wasn't until two years ago that I started to wonder where they were made and who made them. In a nutshell, what I learned changed my life.
I vowed that I  would no longer purchase clothing that was harmful to the environment or to the people who made it. In addition to this, I wanted to find clothing that was nice enough to wear both on and off the mat.
While the first part was relatively easy, the second part wasn't. Some of the lines I found were woefully lacking in the area of style.
My search led to the discovery of Wellicious. This London-based company is all about eco-friendly luxury. (Think of it as a sort of Lululemon for the eco-conscious.) Not only are the pieces made of organic materials—cotton and wool— they are made under fair conditions. (All the items I got were made in Portugal.) 
Early this year, I received three items from them in exchange for a review. Since my last review of their products, the line has expanded and includes categories for ballet and dance, after-class wear, and loungewear.
The three items that I received were from the yoga line, and I chose them with warmer months in mind: the ⅞ leggings in black, the aptly named summer cardigan, and a pair of Best Yoga pants in Diamond White However, even though the temperatures have dropped and we are now officially into fall, I am still wearing these items. 
See below for full reviews.
The Pants:
If I had to pick "the" essential yoga wear, it would be pants.
Shirts, bras, and workout tops tend to be remarkably similar from line to line, but pants vary a lot in terms of quality. Sometimes it is a case of "you get what you pay for," but even amongst high-end lines, I have had problems with pants that promise to be opaque only to discover—usually in the middle of class—that they aren't. (Think back a few years ago to Lululemon's infamous see-through pants scandal which lead to a massive recall.) Leggings are especially prone to the dreaded see-through phenomenon since they stretch.
Happily, I experienced no such problem with either of the pants I tested. They both live up to their claims of being opaque and are made mainly of organic cotton. In fact, more than 90% of the fabric is cotton and the rest is elastane. In the case of The Best Yoga Pants, the only color they came in was white. I was a little nervous about the see-through factor. (Wellicious claims they are 100% opaque, but I still had some reservations.) Therefore, I test them out by wearing a pair of dark colored underpants underneath of them. Nothing showed whatsoever. Not even a shadow. I further tested the claim of opacity by washing them twice and wearing them three additional times.  Again, no transparency whatsoever was evident, and they kept their shape without any bagginess.
 Also, despite not being tall and willowy, these were incredibly flattering to my short, muscular legs. The ⅞ leggings are truly seamless while the Diamond Whites highlight the backside without clinging to it like a second skin. (I caught glimpse of myself in a mirror in the middle of a pretty intense barre class and was happy to see that these looked good from all angles, even when working out.)
Best of all with the leggings: they don't leave lines on my skin the way some brands do. 
The Summer Cardigan:
Despite its name, I am wearing this well into the Fall. It's perfect for those warm days and chilly evenings. The 100% machine washable linen fabric is soft and has a nice drape. Like the pants, it washes well and is incredibly flattering to most body types. Another added bonus is that this works well on its own.
Throw this on over a bra top or workout tank, and no one will know you just came from yoga class.
In a nutshell,  Wellicious is better at filling the gap between eco-friendly and stylish than anyone else I have seen. While this is a more high-end line, the prices are comparable to other high-end lines that aren't eco-friendly. The items that I have from them are my go-to clothes both in terms of performance, and also when I have errands to run before and/or after class and want to look polished.
While I want to wear clothing this is manufactured under environmentally and worker-friendly conditions, ultimately, I want to wear clothing that looks good.
Wellicious does this well—so well, in fact, that I don't even worry about my messy post-workout hair when I am in these clothes.
Author: Kimberly Lo
Editor: Emily Bartran
Photo: Author's Own