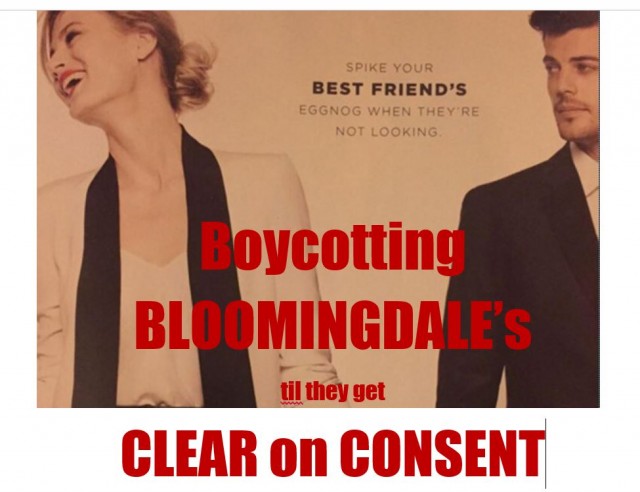 I have some mindful ways to make a difference in the world this holiday season in response to the ad that Bloomingdale's ran a little over a week ago.
For Bloomingdale's, and parent company Macy's, as well as individual consumers.
The easy part: Consumers can boycott both stores until we're clear they are clear on the concept of consent.
The hard part will be to challenge and change the corporate culture where this ad was made. But change is possible.
And might even be practical.
It's as simple as education and using creative powers for good.
It doesn't have to take a lot of time or money either.
I propose that Bloomingdale's could have a company wide staff day instead of a holiday party this year. I mean, who is going to feel safe sipping eggnog at this place now with so many secret drink spikers in their midst?
They could have a day listening to the statistics which would help them understand why so many were outraged and offended by their ad. It might seem obvious, the fact that the ad was made it is proof that it is not.
Over a quarter of a million sexual assaults happen in the U.S. Every year.
Four out of five victims know the rapist and almost half are raped by a friend or acquaintance.
That need not take even five minutes, but to drive the point home maybe female staff members could be invited to send in letters or statements or write testimonials about how this actually works in reality—real-life scenarios.
And the men who work at the company, all of them, could do just one thing.
Listen.
Yes, men are raped, and it is tragic. And it's almost always by other men. The overwhelming number of rapists are male and it is apparently men who do not understand what consent is and what happens to the women (and men) who live through the crime of their consent being violated.
That could take a few more hours. Real-life testimonials and listening.
Not arguing.
Not questioning.
Not challenging.
Not dismissing.
Just listening.
And of course, keeping it fact-based.
Testimonials. Facts. Listening.
That's the first part of the day.
That should address any future confusion over how and why so many found the ad unfunny, not sexy and actually infuriating. Or painful.
And how disregarding consent and joking about it shouldn't be condoned in ad copy.
Ever.
Consent. It's safe and wise and kind and legal.
Consent. It's not too much to ask, assume or expect in ads, beverages or bed.
They could practice coming up with ad jingles for making consent catchy to keep it about work if need be.
Then, for the second part of the day, Bloomingdale's could learn how to use the power of advertising for good from others doing just that. They could consider starting their own awareness campaign to earn back consumer trust and become more professionally skilled in advertising.
This could be done quickly by watching the short and effective, Consent. It's as Simple as Tea web video. It's part of a #ConsentIsEverything campaign collaborated on by the Thames Valley police and the Thames Valley Sexual Violence Prevention Group.
It's everything the Bloomindale's ad is not: simple, clear and genius.
It's not just the feminists, activists and law enforcement who like the ad. Adweek approves too and described it as "brilliant."
If only the ad team at Bloomingdale's read Adweek in late October before promoting illegal and dangerous behavior in November. Please put that idea in the suggestion box too.
Consent. It's as Simple as Tea uses words and pictures to take on the seriousness of sexual assault—with humor.
It was created by blogger Rockstar Dinosaur Pirate Princess and Blue Seat Studios. The Blue Seat Studios tagline is "educate with humor."
Is it possible?
Can it work?
I hope so.
It works for me, and I'm what one might call an "angry feminist." (You know, a feminist who is angry about the prevalence of sexual assault lived through by so many children and women and sometimes men.)
Consent, it isn't optional. With sex or with drinks, whether they be tea or eggnog. And until Bloomingdale's gets behind the concept of consent, I'll continue boycotting them.
I don't wish to hurt their bottom line—to be cruel—I just can't support a store that makes light of consent when the lack of that very thing has hurt and harmed so many.
Consent isn't optional or difficult to understand.
Thanks to Laura Mahn for showing me this fabulous Thames Valley PD campaign!
~
Relephant Read:
~
Author: Christine "Cissy" White
Editor: Toby Israel
Photo: Author's Own // c'est la viva/Flickr
~