There are a few things we Harry Potter fans are waiting for at the moment, but two stand out as particularly important:
My letter of acceptance to Hogwarts. I know it's there, guys. Right?….Guys?
The theatre production of Harry Potter and the Cursed Child
The first is a nerve-wracking but inevitable wait. The second is nothing but a sublime future for Wizards, Witches, Horn-Tail Dragons and Muggles alike.
Which means someone had to ruin it.
It was announced today that the our ultimate nerd crush Hermione Granger would be played by none other than all-round fantastic person Noma Dumezweni—a phenomenal actress and person of colour. You would think that given all the "Mudblood" nonsense Hermione had to roll her eyes at throughout her time at Hogwarts, this announcement would be welcomed by fans and celebrated for the entirely appropriate casting choice that it is.
Unfortunately, that was not the case.
Tweets have flooded in since the announcement that typify the concept of racial privilege. Angry tweeters expressed their outrage that the character description in the books we all know and love could be so unabashedly ignored:

All class here.

Casting a woman of colour is worse than the fictitious megalomaniac intent on a racially-based genocide? The irony is almost palpable.

Cue J.K Rowling giving the bigots of Twitter a bit of a lesson in reading: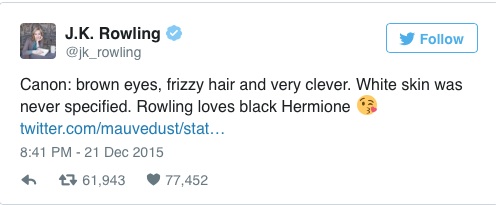 Not only were the comments from supposed-fans undeniably discriminatory, but they were also completely unfounded, and apparently unappreciated by the brains behind the whole Wizarding world.
Racist tweeters— 0
Rowling— 1
~
Relephant:
Author: Erin Lawson
Editor: Erin Lawson
Images: Flickr/iKobe   //   Twitter/1006michelle  //  Twitter/jontheguy_  //  Twitter/Jayy_LaVey  //  Twitter/J.K Rowling