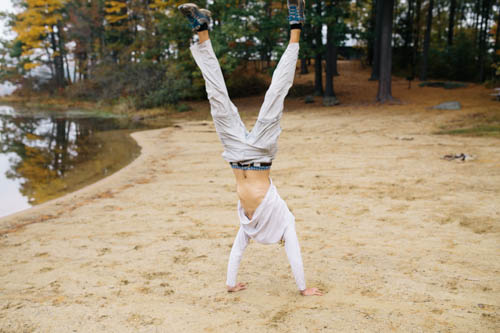 Full Tuition Funding for Modest Americans
The US government and the State of Washington paid me to get a bachelor's degree.
The grants I received to cover tuition and cost of living are available to every adult in America who lives on a modest income. Most people I meet are amazed to find out that this financial aid exists in the U.S., as every day we hear stories of young people in crippling student debt. This is the story of how I happened to get paid for college, and how any American can do the same.
When I was 18, I got accepted to Western Washington University. I was dependent on my middle class parents for income, and they made enough money to pay for the suburban dream of a four bedroom house, three cars, cable and steaks. But that left no cash for paying tuition.
I felt social pressure to go to a university, so I took out loans to pay for it. I was lucky to have a small college savings account, and ended my first year with a 2.8 GPA and $3,700 in debt. My greatest lesson that year was how to turn a water bottle into a bong. I was not ready for college and I don't think that was worth going into debt for.
After that first year, my dad lost his management job. This changed my perspective on money and I enrolled in Seattle Central Community College, which was less than half the cost of tuition at the university. I paid for school out of pocket by working at a restaurant. SCCC offered an amazing humanities department and a more diverse student body.
From my professors who came from places like Tunisia, Colombia and Ethiopia and my classmates who came from Indonesia and Kenya, I learned about global inequality. I saw that high tuition costs and student loan interest were hurting average folks and benefiting the rich. I got involved with activism to stop proposed tuition hikes and through this activism, I found out that some students were being funded for their studies by the government.
The people I met who were having their education funded were poorer than my family, or independent students over the age of 24. Although I wanted to be in school and finish a bachelor's degree, at age 21, I decided to leave school and wait until I would become an independent student. I paid off my first year's student debt and saved up $8,000 in order to take a year and ride my bicycle from Seattle to Cabo San Lucas, Mexico.
After 18 months of riding long distances and hitch hiking longer distances, my passport was stolen in Mazatlan, then my bicycle stolen in Las Vegas. I flew home to Washington and re-enrolled in WWU. It took me two years to finish my degree in English Literature with an Emphasis in Creative Writing, and it was fully funded.
I did nothing special or tricky to get this aid, I have never had amazing grades and I'm not particularly smart. Here is what I have learned about college financial aid in the U.S:
Funds for a first bachelor's degree are available to any U.S. citizen who lives a simple life in the form of the Pell Grant up to $5,775 per year. The Pell Grant will not cover all university tuition costs, but some states offer additional need based grants to cover the rest of in state tuition plus some money for housing.
You can find out if a school fully funds students by using their financial aid website's "Net Price Calculator," for example the Univeristy of Texas, Austin. For a single person to receive full funding they need an income under the poverty threshold of $11,700. (That number will be higher if you have a spouse and children.) This sounds low, but it is a comfortable amount if you live intentionally simple and mindful. A modest lifestyle is poor in money, but rich in experience.
The "Net Price Calculator" will ask you for information about finances and residency, and uses this information to estimate the cost of attending the school. For the UT, Austin price calculator, I hypothetically entered that I am a Texas resident who has lived in Texas more than one year (out of state tuition will not be fully funded by grants). I entered that I am over 24 and single with no children. If you are under 24, you are dependent on your parents (unless you are homeless or married) and you have to enter their financial information.
I entered that I have no assets and made $11,699 in the last tax year. The calculator gave me the estimates that tuition and fees total $9,816 and that grants will be $10,645 for the year. This means all of the tuition would be paid for, and the school would disburse $829 for other expenses. The calculator also estimates that living expenses will be $15,000, but this estimate is high. Once tuition is paid for, it is easy to find a way to work a casual job to support a simple life.
Different schools offer different amounts of aid. When I ran a "Net Price Calculator" for the University of Alabama for example, it showed that tuition costs $9,826, while grants only covered $6,730, meaning that you can not get paid to study at UA. Some expensive private schools, like Stanford, have endowments which pay for the tuition of students with modest incomes. All colleges have a "Net Price Calculator," and a web search will find the one you are interested in.
The next step in getting paid for a bachelor's degree is to apply for and hopefully get accepted to a school with full funding. If you are worried about getting into a university, Community Colleges accept everyone, and you can get paid to study there too. Once you have an Associates Degree it is much easier to get into a four year program.
After filing taxes, fill out a Free Application for Federal Student Aid (FAFSA). This is the online form every college student fills out to determine what financial aid will be awarded. Schools have different deadlines for filling out the FAFSA, including a "Priority Aid Deadline." If you file a FAFSA before the "Priority Aid Deadline," you will get more funds for school. File a FAFSA in the winter for the next school year. For example, if you file in February of 2016, it will give you aid for the fall of 2016 and the winter and spring of 2017. The "Priority Aid Deadline" is near March.
Next, the school will send you an aid award letter. This letter will show the aid you are eligible for and ask you to accept or decline the aid. There are different categories of aid: grants, waivers and loans. Grants and waivers are gifts, loans need to be paid back. You accept the aid which you will need, and the funds automatically pay tuition, what is left after tuition is paid goes into your bank account.
After I re-enrolled at WWU and filled out a FAFSA (after the "Priority Aid Deadline"), my aid award came and I was offered a Federal Pell Grant of $5,645, a tuition waiver of $2,500 and a Western Grant of $3,000, totaling $11,145 of gift aid. Tuition came to $8,862, which left me with $2,283, about $700 a quarter, which was disbursed directly to my bank account at the beginning of each of three quarters. This paid my rent for the quarter (I lived in a sailboat at the marina), and I worked 10 hours per week to earn food money, which left plenty of time to study and simply live.
For the next year I filed the FAFSA before the "Priority Aid Deadline" and I received $1,500 per quarter on top of tuition. Then when I filed taxes, because I had attended college, I was eligible for the  American Opportunity Tax Credit, which came to $900. That gave me time to study and drink beer.
Having a Bachelor's Degree in English Literature feels good. I am confident to say "I am intelligent" and people respect me more. I would not say my education was free though—I worked hard to earn it. I feel a responsibility to use the gift of my education to be a helpful member of my community and society.
I hope my story helps you to start living a simple life and working towards getting paid for a Bachelor's degree.
Author: Michael Beeson
Editor: Catherine Monkman
Photo: Author's Own