The ability to reason may be what sets us apart from other animals, but sometimes that over-thinking meter runs too long and inhibits our ability to get on with the business of living.
Twelve years ago, we lost our beloved chocolate Labrador retriever, Barney Boy. My husband, Jim, and I bought Barney as a pup from a fancy New England breeder. It was the 90s, we were yuppies (not sure if that's still a term) and in those days we thought that's how things were done.
Barney predated mortgages, kids, life insurance, and represented so much about the future which had yet to unfold for us. When he was fully grown, he was 95 pounds and magnificent looking. However, between the high-end dog food and high-end vet care, we missed the memo on training. He ate everything he could find, and then threw it back up. He was an expert at running away, and then strutting back to our house following a two-day bender which he often spent rolling in horse manure at a farm located four miles away.
When I would see him loping up the street after said adventure, he may as well have been wearing a rumpled tuxedo, with the jacket thrown over his shoulder, cigarette hanging from his lips, and bleary eyed from fornication.
So, while he drove us mad, we loved him madly.
When Barney was 10 years old, that crazy living must have caught up to him and one day he could no longer move. We made that awful trip to the vet that every pet owner dreads and I held his beautiful brown head and stroked his velvet ears as the vet said, "It's time to let him go." His passing left a hole in my life, and I desperately wanted another dog to fill the void.
This time, with two young kids and bills to pay, there would be no fancy breeder and instead I connected with a Lab Rescue group. After carefully researching the available dogs, I spotted a three-year-old easy-going yellow dude named Dallas and we were in business.
Two days before the scheduled pick-up, my adoption counselor called and asked if I would take a look at a newly acquired 12-month-old black lab female, Holly, who for one reason or another kept getting returned. She assured me it had nothing to do with temperament, but that Holly needed to go to a home where she would have lots of company. According to her, the previous owners worked all day and couldn't handle her exuberance.
At the time, I was not working so I thought Holly would be a good fit for our family. The counselor explained I was under no obligation but they hoped I would at least meet with the dog. While I had mentally made the calculation that Dallas checked all the boxes and would be the right match, some internal whisper must have nudged me to see this dog who desperately needed a home. I drove the three hours from our home in New Jersey to Towson, Maryland.
It was late in the afternoon when I arrived at the vet's office where Holly was temporarily living. I walked into the office and was greeted by a skinny, stinky, black dog, frothing at the mouth as the handler, Jesse, tried to get her to sit calmly. When Jesse let Holly off the leash, she spun around in circles, in a dervish dance that would make Jerry Garcia proud, and kept dropping a little toy at my feet. Holly continued to act out this this frantic running-spinning cycle and Jesse sensed the whole presentation of the dog thing might not be going well.
She asked hopefully, "Um…what do you think? I think she will probably calm down." The alarm bells were on alert and shouting, "No. Don't take this one, Dallas is your dog!"
The words, "No thanks" were on my lips. I am not a person given to snap decisions—in fact, before Holly, I was a full-on over-thinker but Holly's brown eyes implored me with a look of such deep longing that the "No thanks" came out as "I'll take her."
I looked at her, surprised at the words I had just said, and promised that if she trusted me to take care of her, I would live up to that trust. As soon as we left the office, she seemed to calm down and relax. On the ride home, we formalized her name to Holly Golightly. The connection was obvious: black dog, little black dress, endless brown eyes that one could get lost in…I don't think Ms. Hepburn would mind this homage.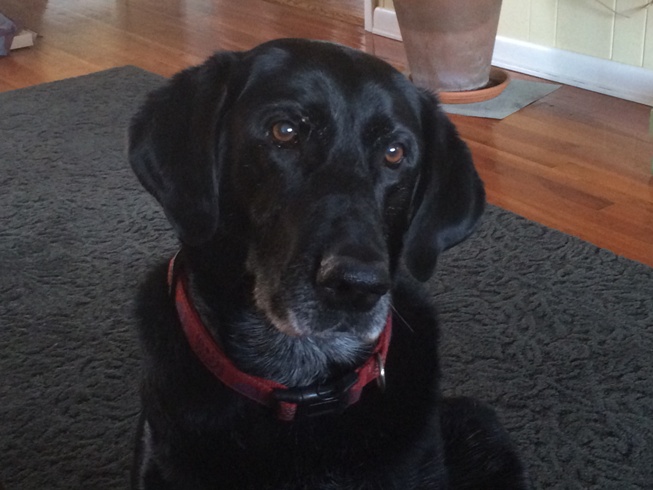 That was 11 years ago, and as I am writing, this amazing dog with the snow white paws has her head resting on my feet.
She has rewarded my family with such love, devotion and joy that none of us could imagine life without her. Holly's gift to me was to hold a mirror to my heart and say, "listen and trust your instinct…the intellect doesn't have all the answers."
We have so much information accessible at our fingertips; it's easy to be overcome with decision paralysis as we struggle to make the "right" choice. Yet, we all have a Holly moment, in which the instinct overcomes the abacus of the mind and we are forever changed.
She is my constant reminder that the voice may just have all the answers we will ever need.
Author: Lisa Wardle
Editor: Catherine Monkman
Photos: Author's Own