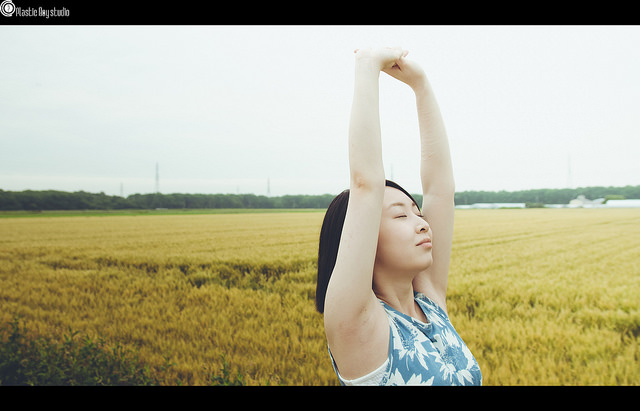 I've been an a**hole this week. I've been feeling sorry for myself. After a crazy ride of driving a Uhaul halfway across the country to San Francisco with my boyfriend and our pup (we both agreed that we would never do that again).
After a weekend full of music, friends and love in San Diego, I fell into a rut on Monday afternoon. I've been blaming rainstorms, a new city, a new position and starting over for my emotional turmoil.
I know many others in the same situation, who feel these challenges and aspirations that once sounded invigorating to them, all became something to fear and consider running away from.
All of which are things that with a little twist in perception could be reasons to be absolutely in love with life. Reasons to be grateful for how far we have already come and for the people surrounding us, cheering us on. Reasons to be excited about the process and the struggle, the inevitable failures and successes coming our way.
We so quickly get caught up in the negativity. Ego creeps up and suddenly what started as excitement for the unknown becomes confusion, regret or fear. Why do we seem to forget what drove us to start our journey, as soon as things get a little rough around the edges? Why do we forget that this road of bumps and hills, highs and lows, is a road we once dreamed about?
That is no way to thank the universe for giving us what we've asked for! We asked for this challenge because we want to come out of it stronger. We said we would accept the strife if it meant making us better.
Yesterday after crying for the third afternoon in a row, I promised to stop beating myself up about what I saw as a lack of progress.
We know deep down success and achievement are not going to be easy or instant. We could fall down, and continue to fall down. It seems that we build up a ton of momentum towards getting started and let a few hard days bring us into a dark place.
Back to gratitude. This is what happens when we forget about it. Darkness. We don't shine very bright when we aren't coming from a place of gratitude and love. What happens when our light is dulled? How can we expect to be successful and have others assist us on our journey without it? It's what draws others to you. It's what draws you to others.
We continuously come face-to-face with situations in our lives that are harder than others. We continuously survive. Let's give thanks for the rainy days, for the trip-ups, the fears, the future and all of the confusion we don't have answers for yet. The question isn't whether you will make it work—you will make whatever you want most in your life work. But how smoothly are you going to get there?
We always thrive after a slump. But not until we put as much gratitude, hard work and effort into not only our daily activities, but also towards every single person we come in contact with. So next time we get caught in the rain and darkness, even for a moment, remember to stop and show gratitude. I promise it will save your day.
~
Author: Taylor Noel
Editor: Travis May