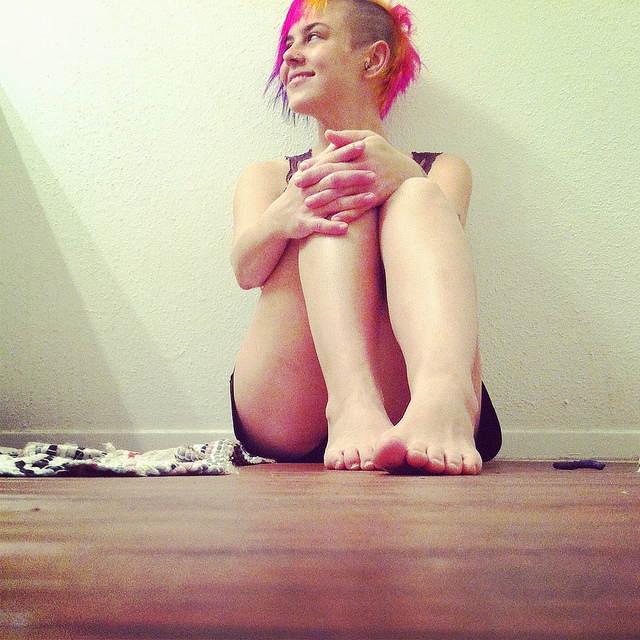 For more than two years, I had nightmares every night. They ran the spectrum from stressful dreams about taxes to violent, bloody, terrible things happening to good people around me.
Needless to say, I almost always woke up on the wrong side of the bed. Even though they were just dreams, and my waking life was peaceful and pleasant, my nightmares left a haze of discomfort that clung to me in the mornings. I actually stopped seeing clients in the morning because I just couldn't tap into the infinite, blissful wisdom of the universe that guides my coaching sessions. 
From this place of total grumpiness, I start quilting together a morning routine that would get me ready for the day that I really wanted to have. I'll share the details of my first waking hours with you, and how they've evolved, and then we'll look at what might work well for you.
Lemon Water
Nightmares literally left a sour taste in my mouth. I woke up feeling nauseous, and usually didn't feel like eating until at least 10:30. I read about Danielle Laporte's Morning Routine, and the thing that jumped out at me was lemon water.
A big glass of warm water with lemon is essential for me now; I do it always. Even when I'm grumpy and tired and want to stay in bed, I whisper to my body, "Just get up and put on the tea kettle." I think that's part of it—knowing that I have a tool, a way to start. It makes me feel just a teensy bit powerful and in control of my life. Believing that I have the power to change the way I feel changes the whole game. 
Morning Pages
When I was 14, my dad and I read the Artist's Way by Julia Cameron. Dad was working on a book of poetry, and I was just trying to survive being a teenager. As we read Cameron's book together, we were introduced to an exercise called Morning Pages. Morning Pages are a daily act of writing three pages, long-hand, just by following the stream of your thoughts.
I've dipped in and out of morning writing over the last 10 years, but at the peak of my nightmares, I went to visit my dad and his family on their sailboat in Tahiti. In the mornings, the whole crew sat silently with their notepads—even my seven year-old half-sister—and I picked up the habit of free-form writing again. The peace and freedom I felt while visiting them might have come from the bikini-only dress code or early nights, but I brought Morning Pages home with me as a souvenir.
These days, I keep a cheap notebook and a fast pen next to my bed. I write on the porch in nice weather, or swaddled in a big sweater on my couch in the winter. I write first thing if I'm alone, or after my honey leaves for work, if he's spent the night. I write down everything I think, even if it's just, "I'm tired. This is dumb. I'm sleepy. This pen sucks." I've noticed that my Morning Pages almost always start out grumpy and end up filled with gratitude—and that gets my head on straight for the day.
Get Moving
Recently, my closest mentor has been the renowned naturopath, Dr. Charley Cropley. I've worked closely with him for over a year, and have learned so much about real good living. Charley is 70 years old, and works out every morning. But working out with Charley is like nothing I've ever done before. He practices his own unique blend of yoga, dance, and calisthenics, totally rooted in showing love and goodwill towards his body.
Thus, my morning workouts have become a fluid, flexible part of my day. It's usually my own mix of dance, yoga, and tiny weight lifting. If I'm into the music, I'll spend more time dancing. If I need more peace, I'll do yoga for longer. When I'm close to my cycle or getting over a cold, I do some long, slow stretching. If it's a gorgeous morning, I might even go on a little jog! 
The bottom line is, I move my body for at least half an hour. (Charley regularly works out for 90 minutes, but I'm just not there yet.) As long as I'm not in recovery mode, I get a sweat going. Science says exercise is good for mood, and I wholeheartedly agree. After a workout and a shower, I feel like I have literally shaken off the yuck left over from my nightmares.
Eat Breakfast
I believe in a bomb breakfast. Like I mentioned above, I used to feel kind of nauseous till 10 or 11. When I had a "real job," this meant skipping breakfast, not being able to take a break in the middle of the morning, and waiting until lunch time to eat—perfect recipe for a serious case of the blues. Lemon water and exercise have helped me develop a healthier morning appetite.
Now that I feel like eating breakfast, it's important to me to have an awesome one. This means super tasty, nutrient-dense, and relatively quick. I did an exploration called The Breakfast Experiment, and found a bunch of options that work well for my ideal breakfast. These days, I cycle between these tasty treats:
Kale, sausage, and avocado, topped with pumpkin seeds and hot sauce.
Coconut porridge with fruit, almond butter, hemp hearts, and cacao nibs.

Frittata packed with greens, broccoli, onions, and bacon or sausage.

Green smoothie with spinach, avocado, protein powder, lemon, and ginger.
Breakfast is another opportunity for me to listen lovingly to my body and give her what she really needs. It also sets me up to be focused and clear for my work. 
Eat the Toad
Picture this: I've done everything on the list above—plus I'm dressed nice and smelling good, ready for the day. I take one quick look at my to-do list, and pick the grossest thing on there. I learned this trick from a friend who was finishing up her PhD: "Eat the toad, first thing." She told me to pick the task that I am most resistant to, and get it done first. I feel like a total boss once I complete that task, and the rest of my day just cruises from there.
Creating Your Ideal Routine
This routine is great for me, a perfect combination of structure and flexibility. I ease my body and my brain into motion before I conquer any big challenges. I know that this whole routine takes me at least two hours, from the time I wake up to the time I walk out the door. Nothing is rushed through or squeezed in. I rarely have nightmares any more, but I have learned how to show myself love and compassion when I do.
Find a morning routine that works for you; a routine that leaves you feeling amazing, no matter how you've slept or what you need for movement. While it's tempting to go for structure and consistency, give yourself some room to be human, to feel how you're feeling.
I'd love to hear what you come up with for your own morning routine! Leave me a note in the comments or shoot me an email.
~
Author: Lily Calfee 
Editor: Travis May
Photo: Flickr/Jessica Mullen