Elephant Journal's #EarthDayBash
Elephant Journal's hosting an evening celebrating Earth Day & mindful LA community. Every ticket includes a copy ($35 cost) of  "Things I would like to do with You," Waylon's bestselling first book, a contemplation on Modern Love from a Buddhist point of view that's helpful and inspiring whether in relationship or single. Meet, greet and practice yoga (!) with instagram's biggest yogi stars and sing for the Earth with C.C. White Soul Kirtan!
Get inspired by:
Caitlin Turner
C.C. White
Andrew Sealy
Liz Arch
Lamonte Goode
Rivka
Yogi Cameron
Free snacks by Organic Gemini! And much more yumminess and fun.
When:
Friday, April 22, 2016 from 6:00 p.m. to 10:00 p.m. PDT—Add to Calendar
Where:
Our favorite! Wanderlust Hollywood—1357 Highland Avenue, Los Angeles, CA 90028
 Stay Updated:
Get the event on Facebook.
Follow us @elephantjournal on Instagram.
~
About the Book:
Things I would like to do with You is about love. A love for a new generation—a love that includes room for independence, change, humor…even loneliness. This book is printed locally with veggie ink on eco-paper and we offset carbon emissions, by planting a tree with every book printed.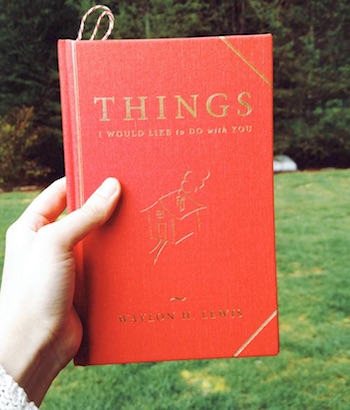 It's a book about a different kind of love.

Lamonte Goode, CYBERYOGA:

Caitlin Turner, @gypsetgoddess:
C.C.White, Soul Kirtan!